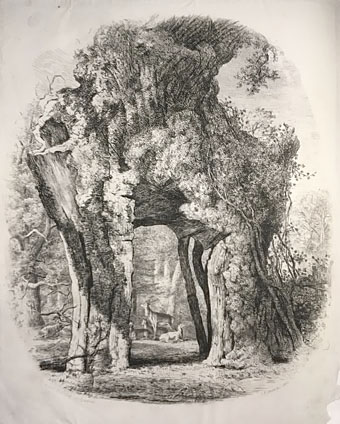 The Greendale Oak, Welbeck, Nottinghamshire, from Joseph George Strutt's Sylva Britannica (1822/1830).
• "…a single page from Max Ernst's collage novel Une semaine de bonté (A Week of Kindness, 1934) uncovers the weird brooding threat in Tenniel's image of Alice in the railway carriage." Mark Sinker reviewing the Alice: Curiouser and Curiouser exhibition at the Victoria and Albert Museum, London. I don't know what Ernst page Sinker is referring to but I made the connection between an Ernst collage and Tenniel's drawing here in 2010.
• At Wormwoodiana: "Calum Storrie's 36 Elevations is a book of drawings of imaginary architecture, with the emphasis on towers, stairs, ladders, globes, oblique angles, gantries, finials etc."
• At The Quietus: Jennifer Lucy Allen on The Strange World of…Don Cherry, and Dustin Krcatovich on Don and Moki Cherry's Organic Music Theatre.
Call it the new orthodoxy of the digital middlebrow, "the rise of safely empowering stories with likeable protagonists who move through short sentence after short sentence towards uplifting conclusions in which virtue is rewarded." The laudable goal of increasing the diversity of literary voices has somehow morphed into a series of purity tests designed to ensure that any artistic representation ticks the same boxes as its ostensible author. "On this," Tyree writes, "conservative religious evangelicals secretly agree with their puritanical secularist enemies on a censorious attitude and checklist approach to art as either 'acceptable' or 'offensive' to whatever program one happens to prefer for cleansing all vileness from the world." The result?

[A]rt is increasingly viewed by both the right and the left as a sub-branch of medicine, therapy, hygiene, or good manners. Art is no longer that which tells us the truth but rather that which makes us feel better—a deflated ideology that is spawning a sort of unofficial school of palatability.

And this, I fear, is what's afflicting many of my students…

Justin St. Clair reviewing The Counterforce: Thomas Pynchon's Inherent Vice by JM Tyree. Since I'm currently in the midst of a Pynchon reading binge this is all very timely
• "Researchers create self-sustaining, intelligent, electronic microsystems from green material".
• From 2018: Ryuichi Sakamoto and David Toop live at The Silver Building.
• New weirdness: Catwalk Of The Phantom Baroque by Moon Wiring Club.
• Mix of the week:Episode #391 of Curved Radio by radioShirley & mr.K.
• At Dennis Cooper's: Illegible autographs.
• Elevation (1974) by Pharoah Sanders | Elevation II (1997) by Vainqueur | Elevations And Depths (2010) by Locrian