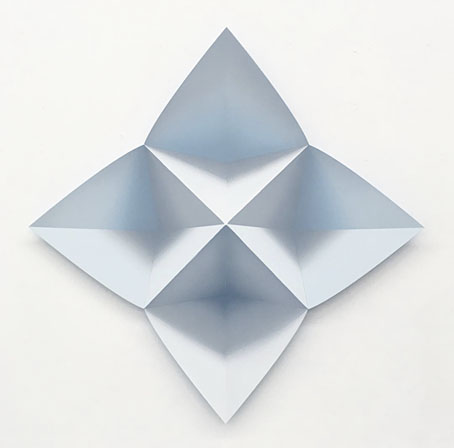 Kami #58 -bloom- (2019) by Momo Yoshino.
• "Set amid the countryside and the beaches of coastal Sussex, They depicts a world in which plundering bands of philistines prowl England destroying art, books, sculpture, musical instruments and scores, punishing those artistically and intellectually inclined outliers who refuse to abide by this new mob rule." Lucy Scholes on They: A Sequence of Unease (1977) by Kay Dick, which she calls "a lost dystopian masterpiece". This is revelatory in a minor way since for years I've remembered seeing a slim volume with the title They in a bookshop, and which I later thought might have been a Rudyard Kipling book (there's a Kipling story with the same title). The timing is right, the sighting would have been in 1977 or 78. The combination of that short, one-word title with a stark cover image and a sinister description on the rear was hard to forget but I didn't take note of the author's name. (I also didn't buy the book, opting instead for some inferior work.) A shame that it seems to be resolutely out of print.
• "The threat to civil liberties goes way beyond 'cancel culture'," says Leigh Phillips. It makes a change seeing this coming from Jacobin when so much of the left today can find nothing wrong with censorship so long as it's in a good cause. (Every censor that ever lived believed they were acting in a good cause, were on "the right side of history", etc, etc.) The piece includes a dismissal of the increasingly common riposte that "only the state can censor": this would be news to my colleagues at Savoy Books who endured years of police harassment including the seizure and destruction of printed material; the same with the long history of police action against UK rap artists. Related: "Work that's cancelled for being 'of its time' was probably objected to, at the time." Dorian Lynskey on chronocentrism and "the narcissism of the present".
• "Cruising baths, bars, and subway toilets, snorting poppers and 'fist fucking with 40 guys for 14 hours' (as he recalled in You Got to Burn to Shine, his 1993 collection of prose and poems), he found meaning in a religion of radical eros whose sacrament was anonymous sex." Mark Dery reviewing Great Demon Kings: A Memoir of Poetry, Sex, Art, Death, and Enlightenment by John Giorno.
• Aubrey Powell says his best photograph is the burning man from the cover of Wish You Were Here by Pink Floyd.
• Mixes of the week: Fact mix 770 by Lyra Pramuk, and mr.K's Kooky Kuts Vol.4 by radioShirley & mr.K.
• The Alchemical Brothers: Brian Eno & Roger Eno interviewed by Wyndham Wallace.
• Origami-inspired optical illusion oil paintings by Momo Yoshino.
• Alexander Larman on the demise of the second-hand bookshop.
• New music: Follow The Road by Yumah, and Röschen by Pole.
• At Dennis Cooper's: Lighting.
• RIP Linda Manz.
• My Boyfriend's Back (1963) by The Angels | Carnival of the Animals, R. 125: VII. The Aquarium (Camille Saint-Saëns) (1975) by the Württemberg Chamber Orchestra, Heilbronn with Marylene Dosse & Anne Petit, conducted by Jörg Faerber | Kill All Hippies (2000) by Primal Scream