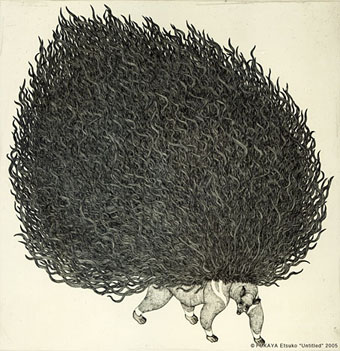 Untitled etching by Etsuko Fukaya, 2005.

• "By the time Scorsese met Powell, in 1975, the British director had fallen on hard times and was largely ignored by the UK film establishment." A London office used by Michael Powell and Emeric Pressburger is given the Blue Plaque treatment.
• Ambient reminiscences at The Quietus: Wyndham Wallace on the genesis of Free-D (Original Soundtrack) by Ecstasy Of St Theresa, and Ned Raggett on Aphex Twin's Selected Ambient Works II.
• "Even Queen Victoria was prescribed tincture of cannabis," writes Richard J. Miller in Drugged: the Science and Culture Behind Psychotropic Drugs. Steven Poole reviewed the book.
I don't relate to standard psychologizing in novels. I don't really believe that the backstory is the story you need. And I don't believe it's more like life to get it—the buildup of "character" through psychological and family history, the whole idea of "knowing what the character wants." People in real life so often do not know what they want. People trick themselves, lie to themselves, fool themselves. It's called survival, and self-mythology.

Rachel Kushner talking to Jonathan Lee
• Sound Houses by Walls is a posthumous collaboration based on a collection of "weird sonic doodles" by electronic composer Daphne Oram. FACT has a preview.
• The skeletal trees of Borth forest, last alive 4,500 years ago, were uncovered in Cardigan Bay after the recent storms stripped the sand from the beach.
• Stephen O'Malley talks to Jamie Ludwig about Terrestrials, the new album by Sunn O))) and Ulver. There's another interview here.
• At BibliOdyssey: Takushoku Graphic Arts—graphic design posters by contemporary Japanese artists.
• The Unbearable Heaviness of Being: Dave Segal on the rumbling splendour of Earth 2.
• So Much Pileup: "Graphic design artifacts and inspiration from the 1960s – 1980s."
• Lots of illustrations by Virgil Finlay being posted at The Golden Age just now.
• Mix of the week: Episode #114 by Lustmord at Electric Deluxe.
• Lucinda Grange's daredevil photography. There's more here.
• Experimental music on Children's TV
• Kazumasa Nagai at Pinterest.
• Teeth Of Lions Rule The Divine (1993) by Earth | He Who Accepts All That Is Offered (Feel Bad Hit Of The Winter) (2002) by Teeth Of Lions Rule The Divine | Big Church (megszentségteleníthetetlenségeskedéseitekért) (2009) by Sunn O)))