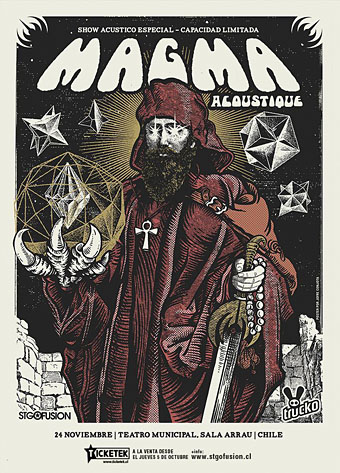 Magma concert poster, 2017. Art by Jofre Conjota.
• The Dream Foundry is a new venture with a mission "to bolster and sustain the nascent careers of professionals working in the field of speculative literature." This includes artists as well as writers, and to this end I was asked to answer a few questions about my work as a creator of book covers. I also offer some advice about visibility as an artist which I tried not to hedge with too many caveats. Related: my cover for The Resurrectionist of Caligo by Wendy Trimboli & Alicia Zaloga was one of the covers of the month at Muddy Colors.
• "…for a band that were so compositionally advanced, they were adept at producing primordially insistent and hypnotic rhythms." John Doran on Magma (again), appraising the band's music and history before presenting Christian and Stella Vander with questions from appreciative musicians.
• Mixes of the week: FACT mix 731 by Meemo Comma, mr.K's Soundstripe vol 2 by radioShirley, The Ivy-Strangled Path Vol. XIX by David Colohan, and The Pumpkin Tide by Haunted Air.
• At Dangerous Minds: Roddy McDowall reads HP Lovecraft's The Outsider and The Hound. Related: David McCallum reads HP Lovecraft's The Dunwich Horror and The Haunter of the Dark.
• "Mathematics is not unique in drawing out charlatans and kooks, of course…" David S. Richeson on cranks, past and present.
• "I plan to take psychedelics again…" Helen Joyce, the finance editor of The Economist, takes a trip.
• The City of Light and its shadows: Brassaï's Paris.
• At Dennis Cooper's: Dennis Hopper Day.
• Paris (1958) by Perez Prado And His Orchestra | Paris 1919 (1973) by John Cale | Paris 1971 (1971) by Suzanne Ciani