Painting by Matthew Buck.
I've linked in the past to previous shows at Observatory, an arts and events space in Brooklyn, NY, so I'm very pleased to be contributing to their forthcoming exhibition, A Love Craft: Art Inspired by Monsters, Madness and Mythos, which takes HP Lovecraft's work as its theme. Other participants will include Aeron Alfrey, Esao Andrews, Matt Buck, Paul Carrick, Melita Curphy, Mike Dubisch, Bob Eggleton, FuFu Frauenwahl, Cyril van der Haegen, Dan Harding, Stephen Hickman, Joshua Hoffine, Kurt Komoda, Dieter Van der Ougstraete, Greg Ruth, Johnny Ryan, Andrew Scott, Allison Sommers, and AJ Wagar.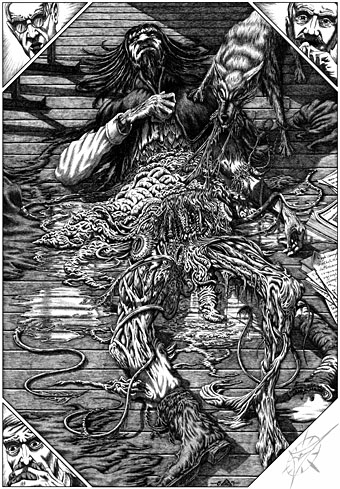 Wilbur Whateley from The Dunwich Horror (1989).
Prints of four of my Lovecraft-related works will be on display including everyone's favourite rendering of Wilbur Whateley's terminal moment from The Dunwich Horror. Visitors will have a rare opportunity to see my ink drawing of R'lyeh at a large size. I'm also told that prints of various works will be available for purchase but you'll have to either visit the exhibition or contact Observatory for further details.
A Love Craft opens on Friday, June 11th at 7:00pm and runs to July 23rd, 2010.
Previously on { feuilleton }
• The monstrous tome
• Lovecraftian horror at Maison d'Ailleurs