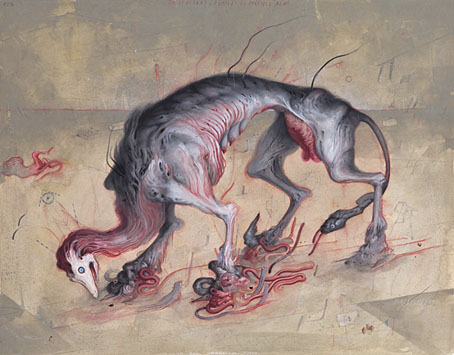 The Constant Drumbeat of Terrible News (no date) by Allison Sommers.
• Nadia Khomami on Gay UK: Love, Law and Liberty, an exhibition at the British Library. Related: Simon McCallum's potted history of LGB characters on British screens. Elsewhere: writer and philanthropist Chuck Forester on gay sex in the 1970s.
• The Panic Fables: Mystic Teachings and Initiatory Tales by Alejandro Jodorowsky. Finally available in English, a collection of all the comic strips written and illustrated by Jodorowsky when he was living in Mexico in the 1960s.
• A trailer for the restored print of The Fabulous Baron Munchausen (1961) by Karel Zeman. Related: collage designs by Graphic Manipulator for a Japanese collection of Zeman's films.
• "Whether divining ancient wisdoms or elevating the art of cold reading, Tarot is a form of therapy, much like psychoanalysis," says James McConnachie.
• James Reith on "the Icelandic publisher that only prints books during a full moon – then burns them".
• Mixes of the week: Wire 400 Mix #6 by Emptyset, and Secret Thirteen Mix 223 by Constantine.
• Mud And Flame: Penda's Fen re-examined by Matthew Harle and James Machin.
• Tilda Swinton in a Leonora Carrington-inspired fashion shoot for i-D magazine.
• At Dennis Cooper's: Spotlight on William Burroughs' The Wild Boys.
• Applied Ballardianism: A Theory of Nothing by Simon Sellars.
• At Dangerous Minds: The Dark Rift by Jim Jarmusch's Sqürl.
• French Underground Rock: 1967–1980; a Discogs list.
• Suzanne Ciani's favourite albums.
• Infinite artwork: Untitled, 2017
• Rip, Rig And Panic (1965) by The Roland Kirk Quartet | Panic (1984) by Coil | Flash Of Panic (1994) by Axiom Ambient