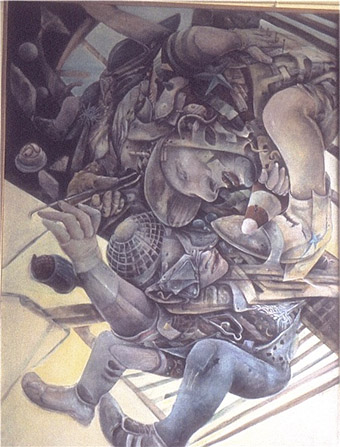 L'Hamestoque (1977) by Christine Gaussot.
• Another announcement from Strange Attractor Press: Of Mud & Flame: A Penda's Fen Sourcebook edited by Matthew Harle and James Machin will be published at the end of October. Among the contents will be the screenplay of David Rudkin's cult television play, an item that's always been impossible to find in print.
• A trailer for Journey to the Beginning of Time (1955), another semi-animated fantasy film by Karel Zeman which will released on disc next month by Second Run.
• "There was craziness in getting lost and dizzy." Stereolab choose favourite songs from their back catalogue.
• E=MC² (1976), an album of spacey jazz-electronica by Teddy Lasry which has never been reissued.
• "Why do so many book covers look the same? Blame Getty Images," says Cory Matteson.
• Mix of the week: The Ephemeral Man's Teapot by The Ephemeral Man.
• Masataka Nakano has been photographing a deserted Tokyo for almost 30 years.
• Beyond the bounds of depravity: an oral history of David Cronenberg's Crash.
• Woodblocks in Wonderland: The Japanese Fairy Tale Series.
• A new novel by M. John Harrison is always a good thing.
• Hamid Drake's favourite music.
• Warm Leatherette (1980) by Grace Jones | Crash (1980) by Tuxedomoon | A Crash At Every Speed (1994) by Disco Inferno