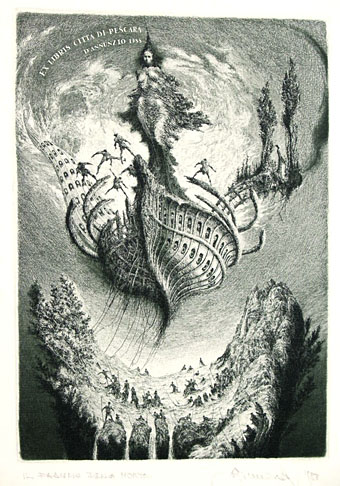 Il Fascino Della Morte (1988) by Albin Brunovsky.
• One of the forthcoming books featuring my cover art is Behold! Oddities, Curiosities, & Undefinable Wonders, a story collection due to be published next month by Crystal Lake Publishing. Bleeding Cool talked to editor Doug Murano about the collection and its contributors.
• Six episodes of Tom Keating on Painters, a TV series from 1983 presented by Britain's most well-known art forger. In six further episodes Keating examines the work of the Impressionists and Post-Impressionists.
• Opening at the Guggenheim, NYC, at the end of this month: Mystical Symbolism: The Salon de la Rose+Croix in Paris, 1892–1897.
The most potent form of gatekeeping is religion. When certain beliefs are deemed sacred, they are put beyond questioning. To challenge such beliefs is to commit blasphemy. The accusation of cultural appropriation is a secular version of the charge of blasphemy. It's the insistence that certain beliefs and images are so important to particular cultures that they may not appropriated by others.

In Defence of Cultural Appropriation by Kenan Malik
• Mixes of the week: FACT Mix 605 by Anthony Parasole, and Secret Thirteen Mix 224 by Fanny Kaplan.
• Artist Tom Phillips at 80: "I'm still reading books. Nothing changes and everything changes."
• Negative Chambers is a new album by Yair Elazar Glotman and Mats Erlandsson.
• "Pornhub is the Kinsey Report of our time," says Maureen O'Connor.
• "Postmodernism is dead. What comes next?" asks Alison Gibbons.
• Mystic Eyes (1965) by Them | Mystical Dream (1965) by The Roland Kirk Quartet | Mystic Green (1985) by Rain Parade