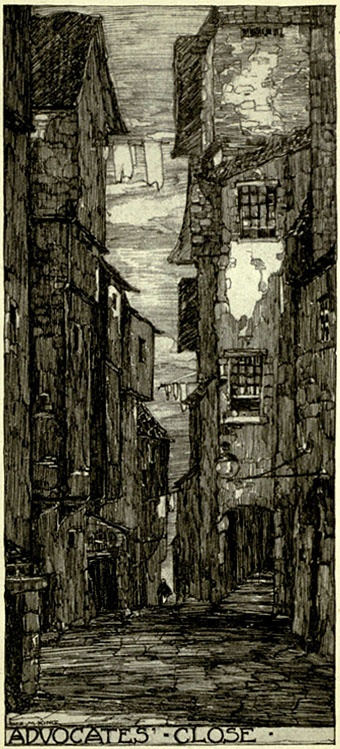 "This dark and steep alley took its name from Sir James Stewart of Goodtrees, Lord Advocate of Scotland, 1692–1713, whose mansion stood at the foot of the close. It was a fashionable quarter in the early 18th century, and here resided Andrew Crosby, the famous lawyer, the original of Scott's 'Andrew Pleydell,' Lord Westhall, John Scougall, the painter of George Heriot, and many well-known people of the time."
Another book scan from the Internet Archive, this time a title which plays to my fetish for Old Edinburgh. The illustration work of Jessie M King (1875–1949) was featured here in September with a delicate piece from A House of Pomegranates by Oscar Wilde. The Grey City of the North (1910) is quite a departure from her usual style, being a collection of monochrome views of buildings, streets and closes of the Old Town. Very nice lettering on all the plates which perhaps shows some influence from her colleague Charles Rennie Mackintosh.
Advocates' Close has particular significance for me since I copied a view of the alley for my adaptation of HP Lovecraft's The Haunter of the Dark in 1986. Providence looks nothing at all like Edinburgh, of course, but I couldn't find adequate reference at the time so used photographs of Scotland by Edwin Smith instead. You can see Smith's photograph and my rendering of it below. Among the Internet Archive's other Jessie King books there's a follow-up to the Edinburgh volume, The City of the West; 24 drawings in photogravure of Old Glasgow.
Another view of the close from Edinburgh and The Lothians by Francis Watt; illustration by Walter Dexter (1912).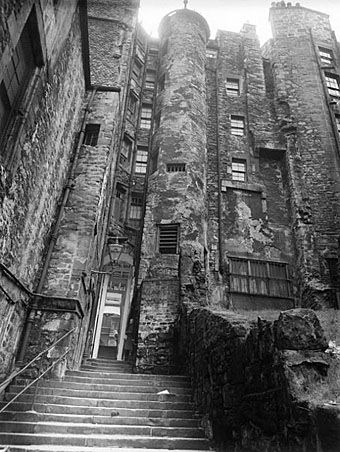 Advocates' Close by Edwin Smith from Scotland (1955).
This book of photographs was an early Thames & Hudson title using their typically excellent photogravure reproduction. My copy was rescued from a waste bin near Manchester University and I've used it so much for reference over the years I've often wondered what I would have done without that chance encounter. You can see from my copy below (drawn with a 0.2mm Variant pen) how much detail I skimped and how much I embellished. I skimped rather more than I remember, as it happens. I think if I'd have drawn this a couple of years later I might have been more faithful to the original.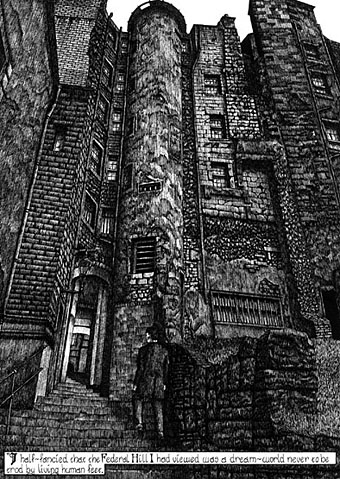 Elsewhere on { feuilleton }
• The illustrators archive
Previously on { feuilleton }
• Ephemeral architecture
• The Essex Street Water Gate