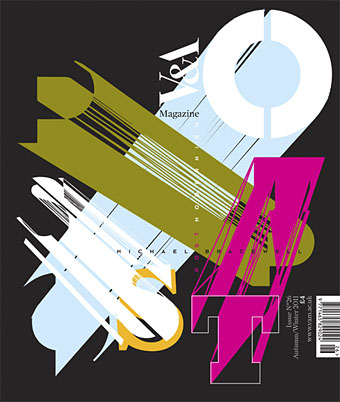 Neville Brody creates a cover design for an issue of the V&A magazine tied to the museum's current exhibition, Postmodernism: Style and Subversion 1970–1990. Brody's comment amused me for the way he smartly explained the thinking behind the design whilst also distancing himself from its theme:
For me, Post Modernism felt like a kind of facade built to cover over the cracks of a divided world, a surface of plucked effects and stylistic devices emptied of meaning, an extrusion of hollow traces and flat outlines forcing 2D into apparent depth. I was never a Post Modernist, rather a Modernist exploring humanist lines of enquiry in the collapsing world behind a wall of decoration.
• It's a common thing today to give images from the past a queer reappraisal, finding homoerotic qualities in pictures which, when they were made, would have seemed free of any sexual subtext. This post finds such a subtext in recruitment posters for US armed forces although none of the examples are as overt as this wartime magazine ad. Over at Front Free Endpaper Callum notes that many vintage photos which people regard today as evidence of gay relationships are unlikely to be quite that. The photo he posts, however, really does appear to show a pair of men who were more than just good friends.
• A play by Ororo Productions of HP Lovecraft's The Dunwich Horror will be staged at the London Horror Festival from October 25th. Related: Horror Made Delightful: The Strange Stories of Sheridan Le Fanu, MR James, and Robert Aickman. "Aickman never spells out his meaning," says Greer Mansfield, "His stories end abruptly and inconclusively, and in fact the 'meaning' is less important than the utter mysteriousness of what happens." Which is just what some of us enjoy.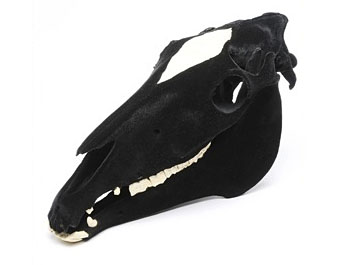 Black Beauty, a decorated horse skull by Julia deVille.
• "Jackpot is a comedic short film about a 14-year-old gay boy in 1994 who sets off on a quest to find a stash of gay porn and get it home before anyone finds out." Director Adam Baran is requesting completion funds at Kickstarter.
• Gendai Shogyo Bijutsu Zenshu (The Complete Commercial Artist), published in Tokyo from 1927 to 1930.
• Ishac Bertran tries some analogue sampling by chopping up vinyl discs with a laser cutter.
• Steve Jobs does LSD and The Residents pay tribute to Steve Jobs.
• A rare post at Ballardian: Outpost 13: The Atrocity Exhibition.
• It's all fun and games until Charles Manson turns up…again.
• The Edgar Allan Poe Portfolio (1976) by Berni Wrightson.
• RIP David Bedford and Bert Jansch.
• John Waters: Roles of a Lifetime.
• Homocomix.
• Poison (1969) by Bert Jansch | Pentangle at the BBC (1970): Train Song | House Carpenter | Hunting Song | Light Flight