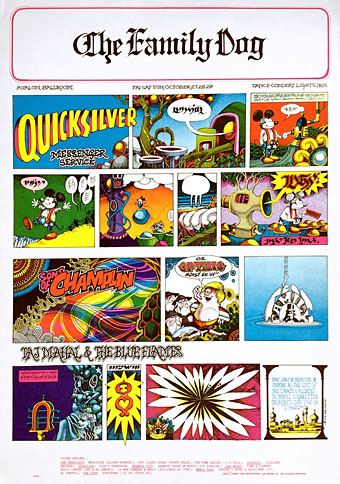 Rick Griffin's comic-style poster for The Quicksilver Messenger Service at the Avalon Ballroom, October 1967.
• "Like 'perversion,' the word 'script' has a special meaning for Escoffier, who devotes most of the book's attention to films featuring sex between men, and treats pornography as a vast screen on which all of our fantasies are projected." Steve Susoyev reviews Sex, Society, and the Making of Pornography by Jeffrey Escoffier.
• "The themes reflect Griffin's core obsessions: sex, death, Christ, flesh, liquids, goofy japes, and lysergic gnosis. Man from Utopia is an opus, one that Griffin felt strongly enough about to eschew the usual pulp, printing the cover on good full-color card stock." Erik Davis on Rick Griffin and a comic book like no other.
• Strange Things Among Us, a summer exhibition at The College of Psychic Studies, London, will include among its exhibits a room of art by Austin Osman Spare.
She delighted in the fact that after The Sadeian Woman, she ended up on the mailing lists of both pro- and antiporn groups, though no one (alas) ever sent her any actual porn. She aligns more naturally in retrospect with Madonna—potent, fiercely individualistic, disruptive, and self-invented. Carter's evolved philosophical position on gender was a variation on Stoicism. Gender roles were "behavioural modes," a construct ("Baby is hermaphrodite!"), and there was weakness in allowing oneself to be beholden to (let alone enslaved by) a construct. Above all, women should have total sexual agency and also their own money. "I became a feminist," she wrote in a postcard to Susannah Clapp, "when I realised I could have been having all this instead of being married."

Minna Zallman Proctor on the life and work of raucous fabulist Angela Carter
• New music: Chapter 4 by the Moritz Von Oswald Trio with Heinrich Köbberling & Laurel Halo, and Synth Vehicles For Guitar by Michael C. Sharp.
• DJ Food searched the back issues of International Times to find a handful of adverts for London's legendary UFO Club.
• At Wormwoodiana: Mark Valentine explores Hy Brasil, a novel by Margaret Elphinstone.
• Remembering Tom of Finland through stories of those who knew him.
• What I'm Aiming For: Peggy Seeger's favourite music.
• At Dennis Cooper's: The Light Show (1965–1971).
• Mix of the week: Haze by The Ephemeral Man.
• A Strange Light From The East (1967) by Tuesday's Children | Strange Things Are Happening (1968) by Rings & Things | Strange Walking Man (1969) by Mandrake Paddle Steamer