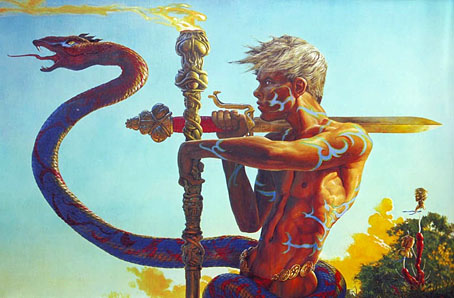 It's inevitable when writing about gay art and artists that Oliver Frey's name will turn up eventually, so here's the requisite post. Frey is often better known in gay circles under the nom de plume he used in the 1980s, "Zack", when he was a very prolific illustrator and comic artist for the few gay mags being published in Britain. As Oliver Frey he was already well-known as an accomplished professional illustrator, who was for a time an artist on Look and Learn's long-running science-fiction adventure strip The Trigan Empire. His professional work makes him probably the most widely-seen of all gay-porn artists as a result of the comic-strip pages he drew for the beginning of the 1978 Superman film.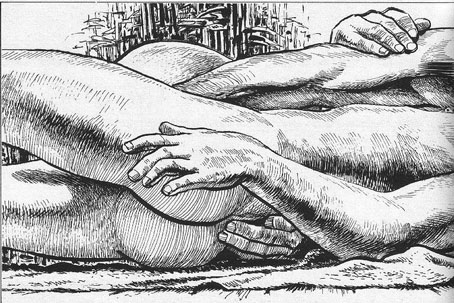 His career as a comic artist honed his skill at dealing with figures and telling a story which is one of the reasons his gay strips are still highly valued today. Those strips tend to be completely pornographic right from the start so I'll spare the delicate sensibilities of some of the readers here and link you to some collections of his Zack work instead. In the meantime, I'd love to know where the picture of the boy with the sword (above) comes from originally. It's a lot more finished than his Zack drawings and is paired on this page with a similar picture of serpent-twined tribal youths which hints at some kind of Burroughs-esque Wild Boys scenario. If anyone knows the answer, please leave a comment. As it is, it makes a good addition to the Men with swords archive, as does the piece of fluff below.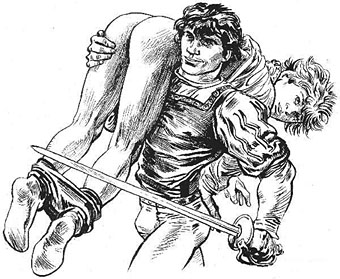 Update: As noted in the comments, original art by Oliver Frey/Zack is now available for purchase here.
Oliver Frey links:
• Zack Art | official site.
• Arrumako's Gay Blog | A substantial collection of complete strips and sundry illustrations.
• Daddy's Here | More single illustrations and some magazine scans including an interview with the artist.
• Gay Erotic Art Links | Another page with further links elsewhere.
Elsewhere on { feuilleton }
• The gay artists archive
• The men with swords archive