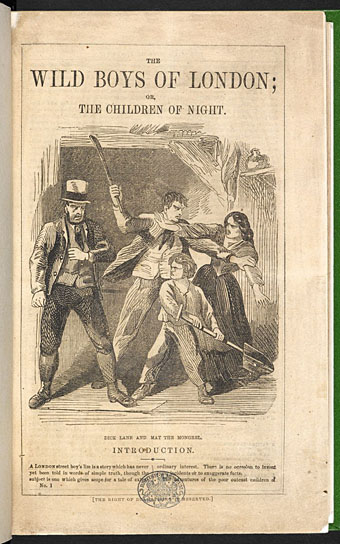 A century before William Burroughs: The Wild Boys of London (1866). No author credited.
• "Acid, nudity and sci-fi nightmares: why Hawkwind were the radicals of 1970s rock." I like a headline guaranteed to upset old punks, even though many old punks had been Hawkwind fans. As noted last week, Joe Banks' Hawkwind: Days of the Underground is now officially in print, hence this substantial Guardian feature in which the author reprises his core thesis. Mathew Lyons reviewed the book for The Quietus.
• "Roy Ayers and Fela Kuti each explored Pan-Africanism and diasporic solidarity their own way before their meeting in 1979." John Morrison on the Roy Ayers and Fela Kuti collaboration, Music Of Many Colours.
• "In 1938, Joan Harrison read a galley of Daphne Du Maurier's masterpiece. She wouldn't rest until she had the rights to adapt it." Christina Lane on Rebecca at 80, and the women behind the Hitchcock classic.
Each page features a distinct moment, seen from one perspective on the front, and from a diametrically opposed angle on the back, occasionally pivoting, for instance, between interior and exterior spaces. This organizing principle is complicated by the fact that a given image might be a depiction of the physical environment surrounding the camera or, at other times, a photograph of a photograph. Midway through, the scene is inverted such that the volume must be turned upside-down to be looked at right-side up. The result is an elegant, disorienting study in simultaneity that allows the viewer to enter the work from either end.

Cover to Cover (1975), a book by Michael Snow, has been republished by Light Industry and Primary Information
• At Public Domain Review: The Uncertain Heavens—Christiaan Huygens' Ideas of Extraterrestrial Life by Hugh Aldersey-Williams.
• Penny Dreadfuls and Murder Broadsides: John Boardley explores the early days of pulp fiction and what he calls "murder fonts".
• The lesbian partnership that changed literature: Emma Garman on Jane Heap, Margaret C. Anderson and The Little Review.
• The 10th Tom of Finland Emerging Artist Competition is now open to entries. (Titter ye not.)
• Death Barge Life: Colin Fleming on Gericault's grim masterpiece, The Raft of the Medusa.
• At Dennis Cooper's: Spotlight on…The Grand Grimoire: The Red Dragon (1702).
• Music To Be Murdered By (1958) Jeff Alexander With Alfred Hitchcock | Murder Boy (1991) by Rain Parade | Murder In The Red Barn (1992) by Tom Waits