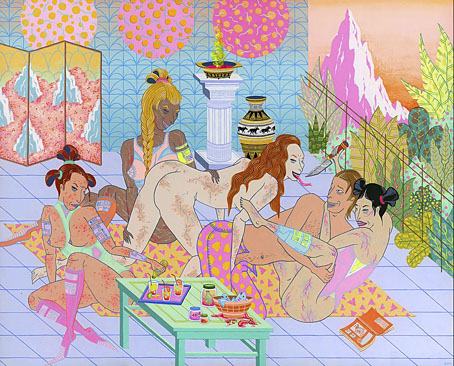 The Gathering (2015) by Kristen Liu-Wong.
• Tom of Finland's house in Echo Park, Los Angeles, "is a trove of homoerotic masterpieces". The house and its former owner are celebrated in Tom House, a book by Michael Reynolds with photos by Martyn Thompson. Related: Tom House exposed by Rizzoli.
• "Underlying the heightened nature of the films was a deep, questioning soulfulness related to literary antecedents coupled with a vision of cinema open to shifting levels of perception and fantasy." David Thompson on Andrzej Zulawski.
• Memories of the Space Age: Photos by Roland Miller of the ruins of NASA's old launch pads, bunkhouses and research facilities. A British equivalent (and a much more modest affair) is the Highdown Rocket Site on the Isle of Wight.
• Statues allegedly made for the John Huston film of The Maltese Falcon are among the most expensive props in cinema history even though there's still dispute about their authenticity. Bryan Burrough investigates.
• Mixes of the week: The Solar Gate: Female Private Press New-Age Music – Vol.1 by Michael Tanner, and an "alchemical" Bowie selection by The Ephemeral Man.
• "What Does It Take To Be A 'Bestselling Author'? $3 and 5 Minutes." Brent Underwood on why Amazon ratings can't be trusted.
• Edward Gorey/Derek Lamb title sequences from the PBS/WGBH show Mystery! (1981).
• A Painter Possessed: Kate Kellaway on the occult abstractions of Hilma af Klint.
• Invertebrate Harmonics: a new composition by Chris Watson.
• Frozen in time: Inside Bangkok's first ever department store.
• Roly Porter's Favourite Space Records
• Space-Age Couple (1970) by Captain Beefheart & His Magic Band | Space Age Batchelor Pad Music (Mellow) (1993) by Stereolab | Space Age Ballad (2001) by Acid Mothers Temple & The Melting Paraiso U.F.O.