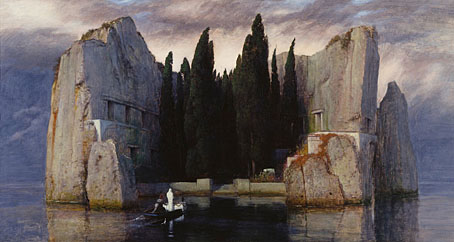 More from the Google Art Project where a couple of paintings by Swiss Symbolist Arnold Böcklin (1827–1901) may be explored, one of them an 1883 version of cult favourite The Isle of the Dead. No need to repeat the history of that work when I've already written about it. The version here is from the Alte Nationalgalerie, Berlin, and is the one I've seen reproduced in books the least so it's good to find it in high-quality.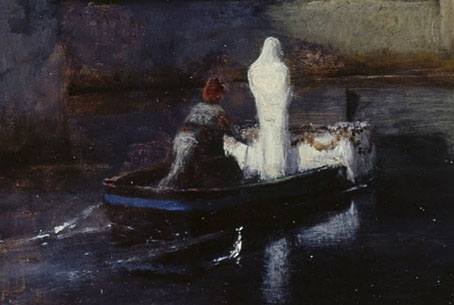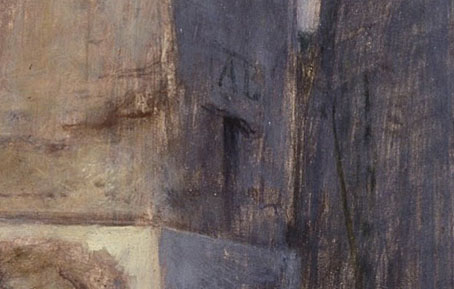 Böcklin painted five versions of this scene, one of which was lost during the Second World War. A couple of them, this one included, have his initials placed over the doorway of a tomb, a detail which isn't always visible in reproductions.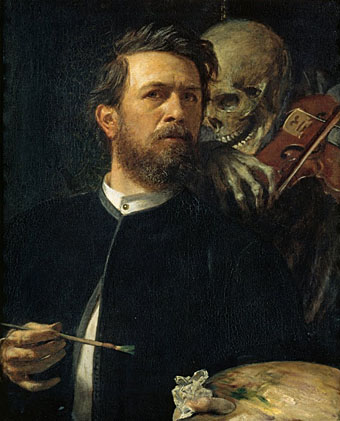 In the same collection is another gloomy Böcklin work, Self-Portrait with Death Playing the Fiddle (1872), and I hadn't noticed before that the fiddle only has one string, the lowest, which would no doubt create a suitably dolorous melody.
For more on The Isle of the Dead see Toteninsel.net, a site dedicated to the many works in different media derived from the paintings. If you need a musical accompaniment whilst browsing, Rachmaninoff wrote the ideal piece.
Previously on { feuilleton }
• Arnold Böcklin and The Isle of the Dead