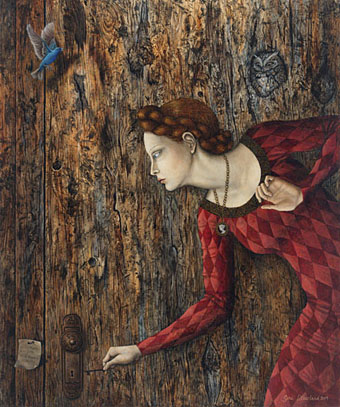 The Unknown Room by Gina Litherland.
• "He admired abstract painters like Mark Rothko, but also derived inspiration from the far less hip Pre-Raphaelite artists of the mid-1800s, especially the painter and poet Dante Gabriel Rossetti. Budd's dreamy early breakthrough Madrigals of the Rose Angel, which featured a segment titled Rossetti Noise, was deliciously out of step with the hard-edged music of the 1970s." Geeta Dayal on the late Harold Budd.
• "Here the experience is transformed into something more fabulist, and much more interesting than the memoir. In the novel, delusions of grandeur become real powers." Elisa Gabbert on Leonora Carrington and The Hearing Trumpet.
• "The Japanese especially loved 3-inch CDs and there are many different examples throughout the 90s and 00s of them being used to great effect as promos." DJ Food begins a series of posts devoted to one of my favourite music formats.
• New music: Viia, 24 minutes of live synthesis by Kikimore; Music For The Open Air, a free album of ambient music by K. Leimer (Soundcloud login required to download tracks).
• Sensory, Imaginative, and Psychic: S. Elizabeth interviews artist Gina Litherland.
• Puppets, Birds & Wycinanki: Clive Hicks-Jenkins talks to Anna Zaranko.
• Mix of the week: a 3-hour tribute to Monolake by Funky Jeff.
• At Wormwoodiana: The Flint Transmissions.
• At Dennis Cooper's: Watery, Domestic.
• At Strange Flowers: 21 books for 2021.
• Edge Of The Unknown (1973) by Nik Pascal | Unknown Passage (1999) by Robert Musso | The Unknown, Part 2 (2005) by Robin Guthrie & Harold Budd