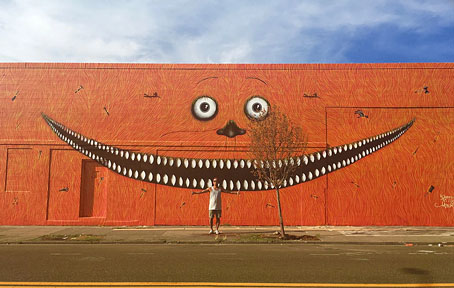 A mural for Forest For The Trees, 2016, by Yoshi47.
• "Who's the real cunt?" Andrew O'Hagan on the Daily Mail's hypocrisies, Little England bigotries and omni-outrage in a review of Mail Men: The Unauthorised Story of the 'Daily Mail', the Paper that Divided and Conquered Britain by Adrian Addison.
• Deutschlandspiegel 198/1971: a short film at the German Federal Archive which includes footage of Popol Vuh (still in their electronic phase) six minutes in.
• A meeting of remarkable minds: a live radio discussion between Annea Lockwood and Pauline Oliveros from December 1972.
• The House In The Woods (aka Martin Jenkins of Pye Corner Audio) at Rare Air, Seattle, 14th May 2017.
• "Peaceful but not to be messed with." Tony Naylor on how the bee came to symbolise Manchester.
• Mixes of the week: FACT Mix 602 by Deathprod, and Secret Thirteen Mix 222 by Yuji Kondo.
• Emptyset and Mouse On Mars's Jan St Werner on space, time and the evolution of sound.
• At Indiegogo, a funding call for Subotnick: Portrait of an Electronic Music Pioneer.
• Shannon Taggart's Camera Fantastica: an interview by Peter Bebergal.
• Study finds mushrooms are the safest recreational drug.
• Mary Anne Hobbs' favourite albums.
• Bumble Bee Bolero (1957) by Harry Breuer | Bee Stings (1998) by Coil | The Bees Made Honey In The Lion's Skull (2008) by Earth