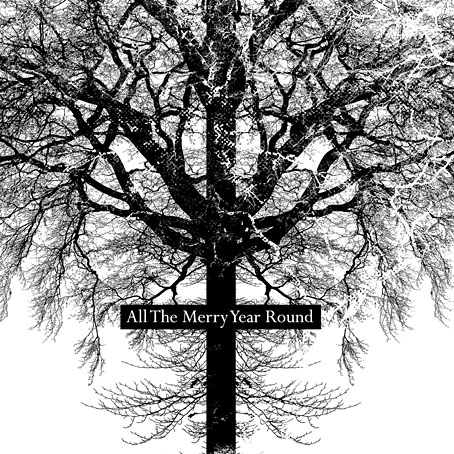 The appearance of the word "merry" in the title of this, the last in a series of themed compilations by A Year In The Country, rang alarm bells now that the end of the year is approaching. Christmas wretchedness isn't the theme of the collection, however, "merry" in this case owes more to its prevalence in British folk culture:
All The Merry Year Round is an exploration of an alternative or otherly calendar that considers how traditional folklore and its tales now sit alongside and sometimes intertwine with cultural or media based folklore; stories we discover, treasure, are informed and inspired by but which are found, transmitted and passed down via television, film and technology rather than through local history and the ritual celebrations of the more long-standing folkloric calendar.

Track list:
1) United Bible Studies — Towards The Black Sun
2) Circle/Temple — Rigel Over Flag Fen
3) Magpahi — She Became Ashes and Left With the Wind
4) Cosmic Neighbourhood — Winter Light
5) Field Lines Cartographer — Azimuth Alignment Ritual
6) Polypores — Meridian
7) A Year In The Country — Tradition and Modernity
8) Sproatly Smith — Moons (Part 1)
9) Pulselovers — Tales Of Jack
10) The Hare And The Moon & Jo Lepine — I'll Bid My Heart Be Still
11) Time Attendant — In a Strange Stillness
12) The Séance — Chetwynd Haze
Some of the previous entries in the year-long series have been more concerned with interstellar space than traditions and customs so All The Merry Year Round may be regarded as a return home, even if the opening number by United Bible Studies is entitled Towards The Black Sun. As with some of the label's earlier compilations, extended drones and atmospherics by regular contributors Polypores and Time Attendant alternate with contemporary takes on the folk idiom by Magpahi, Sproatly Smith, and The Hare And The Moon, the latter offering an excellent rendition by Jo Lepine of the Scottish ballad I'll Bid My Heart Be Still. This is another potent collection which doesn't ignore the sinister potential of winter time, a quality I appreciate when recent offerings from the Ghost Box label have tended to be more box than ghost. The final piece on All The Merry Year Round is Chetwynd Haze by The Séance, a title that refers to ghost-story writer Ronald Chetwynd-Hayes, and a recording that provides an eerie and startling close to a collection mercifully free of seasonal cheer.
All The Merry Year Round will be released at the end of the month but is available for pre-order now.
Previously on { feuilleton }
• The Quietened Cosmologists
• Undercurrents
• From The Furthest Signals
• The Restless Field
• The Marks Upon The Land
• The Forest / The Wald
• The Quietened Bunker
• Fractures