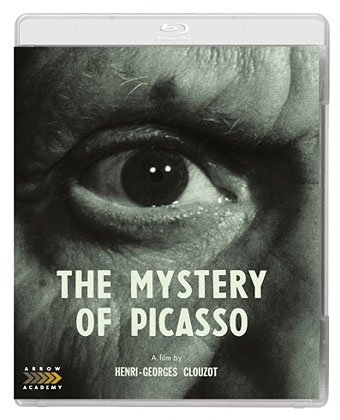 • It won't be out until late January—and then in the UK only—but the blu-ray premiere of The Mystery of Picasso (1956) by Henri-Georges Clouzot was announced this week. The initial run of the discs (there's also a DVD) will include a booklet containing my essay about the film, something I was very pleased and honoured to be asked to write. Clouzot's remarkable study of Picasso drawing and painting for the camera was made immediately after his masterwork, The Wages of Fear (also newly available on UK blu-ray), and this new edition will include two short extras, one of which, A Visit to Picasso (1949) by Paul Haesaerts, is an excellent precursor/companion to the main feature. More on this subject later.
• At the Internet Archive: an almost complete run of The Twilight Zone Magazine (1981–1989). While masquerading as a TV-series spin-off, TZ under the editorship of TED Klein was an excellent periodical devoted to horror and dark fantasy. In addition to running original fiction by major authors (Stephen King was a regular), the magazine contained features about older writers such as Lovecraft and Machen along with book reviews by Thomas Disch, film reviews by Gahan Wilson, interviews and more.
• "Bram Stoker was gay," says Tom Cardamone in a review of Something in the Blood: The Untold Story of Bram Stoker, the Man Who Wrote Dracula by David J. Skal. I've not read Skal's book so can't comment on its claims but his earlier Hollywood Gothic (about Dracula on page and screen) includes some discussion of "sexual ambiguity" in Stoker's work.
• Mixes of the week: FACT mix 625 by Elena Colombi, Secret Thirteen Mix 235 by Rhys Fulber, and XLR8R Podcast 514 by Tommaso Cappellato.
• Help, Help, The Globolinks! is a previously unreleased electronic soundtrack by Suzanne Ciani, out next week.
• La Région Centrale (1971), Michael Snow's epic of landscape gyrations in two parts, here and here.
• Alexander Calder and the Optimism of Modernism: Jed Perl in Conversation with Morgan Meis.
• Illustrations by Lynd Ward for The Haunted Omnibus (1935) edited by Alexander Laing.
• Daniel Dylan Wray on the gay-porn music of disco pioneer Patrick Cowley.
• It's that man again (and his drawings): Ernst Haeckel: the art of evolution.
• At Dennis Cooper's: Steve Erickson presents A Black Psychedelia Primer.
• Bootsy Collins' favourite albums.
• Picasso (1948) by Coleman Hawkins | Pablo Picasso (1976) by The Modern Lovers | Picasso Suite pt. 1 (1993) by David Murray Octet