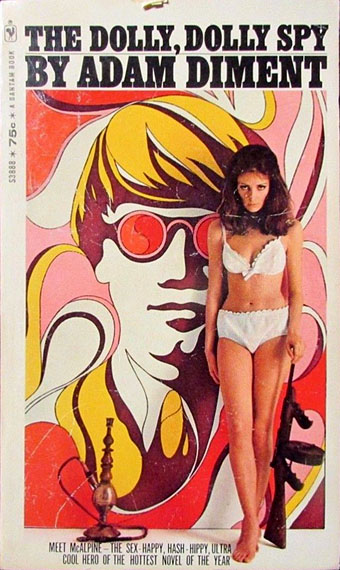 The Dolly, Dolly Spy (1968).
• As mentioned previously, Concrete Desert is a musical collaboration between The Bug (Kevin Martin) and Earth's Dylan Carlson inspired, they say, by Los Angeles and the fiction of JG Ballard. Martin & Carlson talked to Patrick Clarke at The Quietus about the album's creation. Elsewhere, Kevin Martin compiled a list for Bleep of ten musical influences on the album, and Dylan Carlson had a Fireside Chat with Red Bull Music.
• Phil Legard of Xenis Emputae Travelling Band and Hawthonn has released a new EP, Hesperian Garden, featuring compositions derived from the Monas Hieroglyphica of John Dee.
• More Ballard: Mike Holliday maps the evolution of Crash, a novel which is published in a new "Collector's Edition" by Fourth Estate next week.
• Teleplasmiste "bridge the oscillation gap from deep listening ambient music and the heaviest of doomy drones," says Richard Fontenoy.
• David Barnett on Adam Diment, "the superstar spy novelist who vanished for four decades".
• The queer art underground of 1980s London as photographed by David Gwinnutt.
• A sculpture of a Buddhist deity made from 20,000 beetles.
• Mix of the week: XLR8R Podcast 483 by Jane Fitz.
• RIP Gilbert Baker, designer of the rainbow flag.
• Rubber Dolly Rag (1930) by Uncle Bud Landress with Georgia Yellow Hammers | Voodoo Dolly (1981) by Siouxsie and the Banshees | Cosmic Funky Dolly (2003) by Acid Mothers Temple & The Melting Paraiso U.F.O.