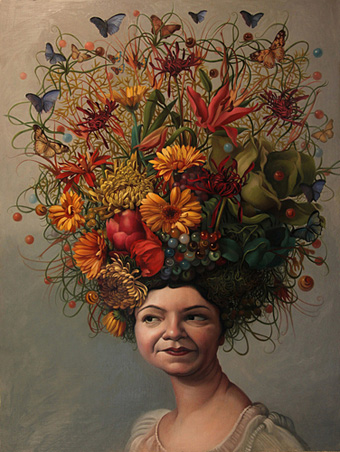 Marbles and Butterflies (2011) by Jennifer Knaus.
• "Cutter's Way is a cinematic masterpiece" says John Patterson. Yes, it is, and it's often been difficult to see (although it's now on DVD) being one of those cult films that rarely surfaced on TV or video. Another cult film surfacing at last is Jerzy Skolimowski's Deep End (yes, again…) which will be out on DVD & Blu-ray next month. I missed this Telegraph piece about the film. You want more? Lint: The Movie is showing at the Kino Club, Brighton, later this month.
• This week's Eno haul: Developing Your Creative Practice: Tips from Brian Eno; Eric Tamm's 1995 study Brian Eno: His Music and the Vertical Color of Sound is now available for free at the author's website; Imagine New Times is an outtake from Eno's forthcoming Drums Between the Bells which can be downloaded here.
• Mixtapes of the week: Demdike Stare with a suitably sinister and eclectic mix are out-curated by Current 93's David Tibet who mashes together a unique blend of folk, prog, riffs, choral works and glam rock.
I began to realize the hypocrisy about sexual freedom in the feminist establishment was as bad as it is in the religious right. They do whatever they want. They look at whatever they want, they masturbate to whatever they want, they fuck whoever and however they like. I couldn't even say everything I know in the book because it would just be too cruel and personally invasive. But I've had it with their lying. I spent so long trying to have these earnest conversations and now I'm like, "Fuck you — you're as bad as the Vatican!"

Susie Bright interviewed by Tracy Clark-Flory at Salon sounding as happy and positive as she always does.
• The Gnostic #4 is out this month featuring Alan Moore's essay on magic and related matters, Fossil Angels, and a piece examining the Gnostic influences on Cormac McCarthy's Blood Meridian.
• "Nobody should be sent to prison for taking drugs," says Richard Branson. Many politicians agree with him but they're all too cowardly to do anything about it.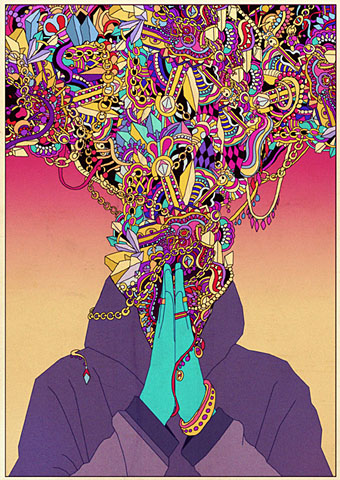 Untitled work by Kilian Eng.
• The Adventures of Jerry Cornelius, The English Assassin (1969–70). A comic strip written by Michael Moorcock & M John Harrison with art by Mal Dean & Richard Glyn Jones.
• The Lavender Scare: The Cold War Persecution of Gays and Lesbians in the Federal Government by David K Johnson is available as a free ebook here.
• "If I was to try to write a mainstream book I would be constantly bumping my elbows up against the restrictions." Tim Powers is interviewed by Alison Flood.
• HOMO Online, Adventures in Homosexuality: Fiction, Fact, Art and Porn.
• Your Rainbow Panorama, a new work by Olafur Eliasson.
• Self Suck, a poem by Angelo Nikolopoulos.
• Map Of Dusk (1987) by Jon Hassell | Lam Lam (1998) by Baaba Maal (with Jon Hassell & Brian Eno) | All Is Full Of Love (1999) by Björk (Guy Sigsworth mix featuring Jon Hassell).