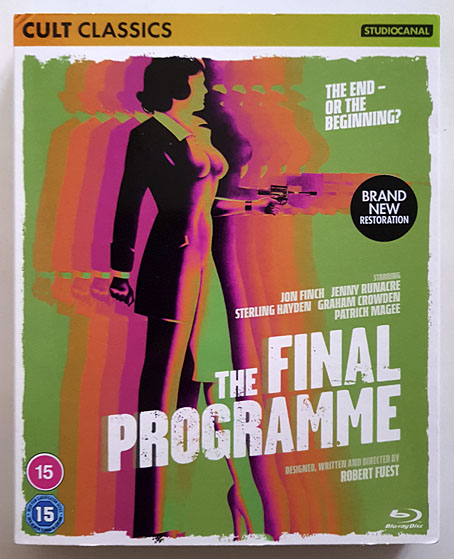 StudioCanal's blu-ray of The Final Programme seems to have been out for a few months but I only spotted it this week on a visit to Fopp, a welcome upgrade for my old Anchor Bay DVD. Not everything labelled as "cult" would go on my cult list but the term is warranted for this one, still the only feature film based on any of Michael Moorcock's novels. Moorcock has been persistently vocal about his dislike of Robert Fuest's adaptation but his readers continue to fly the cult flag. Some films deliver a unique thrill when they present an incursion into the cinematic world of an uncommon cultural component, the less likely, the better: Frank Maxwell in The Haunted Palace intoning the names "Cthulhu" and "Yog-Sothoth"; Florian Fricke of Popol Vuh appearing as a blind piano player in Werner Herzog's The Enigma of Kaspar Hauser; the credit at the beginning of The Final Programme: "starring Jon Finch as Jerry Cornelius".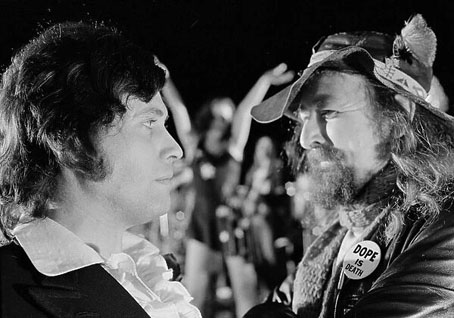 Jerry Cornelius meets his maker, with what appears to be Stacia from Hawkwind gesturing in the background. StudioCanal has many more such stills, most of which I hadn't seen before.
Cult, yes; perfect, no. If you're familiar with the Cornelius novels the film doesn't capture the spirit of Moorcock's barbed ironies (although it hits the mark in places), but we live in a world where you wouldn't expect a Jerry Cornelius feature to exist at all, especially one with such an extraordinary cast: Jenny Runacre, Hugh Griffith, Patrick Magee, Sterling Hayden, Ronald Lacey, Harry Andrews, Graham Crowden, George Coulouris, etc. I always wish that Fuest had let Hawkwind perform at least one song in the arcade scene (or even let us see the group for longer than half a second), while also doing more with some of the settings. But Hawkwind in 1973 were too heavy—sonically, visually, politically—for a film intended for a general audience, and the budget was paltry by today's standards (£222,000) which makes the existence of the thing seem even less likely. Given this, it's amazing it looks as good as it does.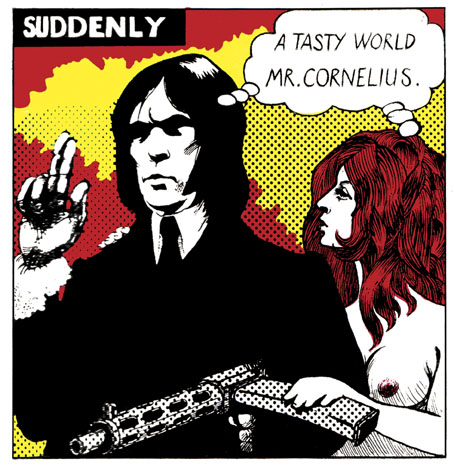 Above and below: panels by Mal Dean from the first UK edition of The Final Programme, 1969.
The main highlight for me among the disc extras is an interview with Kim Newman which I'm looking forward to seeing. I don't usually listen to commentary tracks but I did listen to the one on the DVD where Fuest mentions that the score by Beaver & Krause was prompted by his hearing the second side of the pair's Gandharva album. Gerry Mulligan's lugubrious sax playing doesn't really suit a Cornelius story but the lineage is another factor that adds to the film's cult value.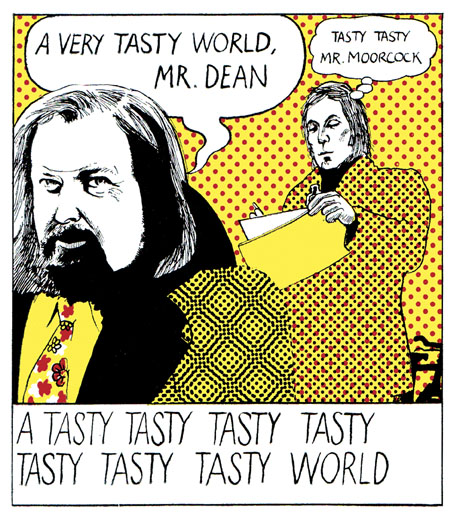 Previously on { feuilleton }
• Strange Adventures: a film list
• Moorcock: Faith, Hope and Anxiety
• Eduardo Paolozzi at New Worlds
• Into the Media Web by Michael Moorcock
• The Best of Michael Moorcock