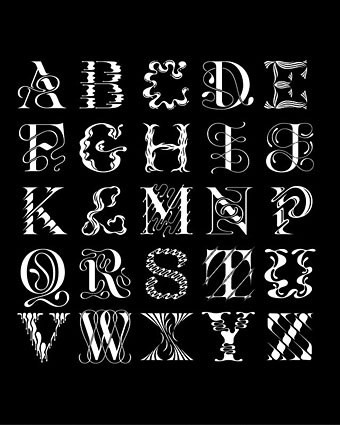 An alphabet by Tina Smith.
• Coming in March from Warp records: reissues of three Broadcast releases that were previously only available in limited quantities, Microtronics, Volumes 1 & 2, and Mother Is The Milky Way. The latter is an EP which makes a perfect companion to Witch Cults Of The Radio Age, and while its reissue means I'll no longer be able to brag about owning one of the rare originals it really ought to have been more widely available. In addition, Warp will be releasing the group's first live album, BBC Maida Vale Sessions, a collection of performances for radio. All these releases are packaged in new cover designs by Julian House.
• "Nature Boy was the conduit through which vegetarian ideals, nonconformism and notions of living in harmony with nature began to filter into US culture." Jon Savage on the exotic world of Eden Ahbez.
• At Dennis Cooper's: Two booklets of Austin Osman Spare: Earth: Inferno (1905), The Book of Pleasure (Self-Love) (1913).
Joyce refused to fix the meaning of the words on the page and left the reader to fend for themselves. So the content may not be actually shocking, but the book feels exciting—as though it might turn shocking any second. Anything might stir in the body or consciousness of a character, in the body or consciousness of the reader. My mother was right to consider it a dangerous text. The thing the censors worried about were the uncensored workings of their own minds.

More than any other book, Ulysses is about what happens in the reader's head. The style obliges us to choose a meaning, it is designed to make us feel uncertain. This makes it a profoundly democratic work. Ulysses is a living, shifting, deeply humane text that is also very funny. It makes the world bigger.

Anne Enright on Ulysses at 100
• At Aquarium Drunkard: occult scholar Mitch Horowitz on the Transmissions podcast.
• 5th Dimension: DJ Food examines a piece of psychedelic Op-art by Michael English.
• New music: Möbius by Jonathan Fitoussi/Clemens Hourrière.
• At Spoon & Tamago: Hiraku Suzuki's Constellations.
• The month in type at I Love Typography.
• Nature Boy (1975) by Big Star | Nature Boy (1980) by Manu Dibango | Nature Boy (1999) by Jon Hassell