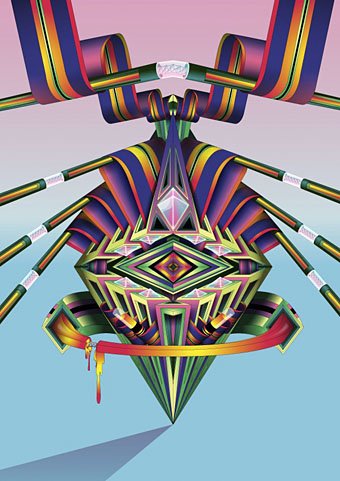 Neutron Drip (2011) by Amrei Hofstätter.
• The Lavender Scare is "the first feature-length documentary film to tell the story of the U.S. government's ruthless campaign in the 1950s and '60s to hunt down and fire every Federal employee it suspected was gay". A film by Josh Howard based on the book by David K Johnson which the author has made a free download here.
• "Annette Peacock, the avant garde American composer, collaborator with Salvador Dalí, friend of Albert Ayler and Moog-synth pioneer, brought this seismically influential session out in 1972…" John Fordham reviews Annette Peacock's I'm The One which can be purchased here.
• Writer and graphic design historian Steven Heller looks at The Steampunk Bible (edited by SJ Chambers & Jeff VanderMeer) in his column for The Atlantic. He also talks to Galen Smith about the book's design.
• M John Harrison reveals more about his forthcoming sf novel Pearlent, a partial sequel to Light and Nova Swing. I just re-read Light, and I'm currently In The Event Zone with the follow-up, so I'm looking forward to this one.
• The Raven, a book by Lou Reed & Lorenzo Mattotti (and Edgar Allan Poe). A Journey Round My Skull previewed this in 2009.
• Orson Welles' Falstaff film, Chimes at Midnight, emerges into the light once more. When do we get a decent DVD release?
• More of the usual concerns: Iain Sinclair's struggles with the city of London and Erik Davis talks to Alan Moore about psychogeography, John Dee, comic gods, and the art of magic.
• Eddie Campbell takes a tip from Jim Steranko. Related: "Hey! A Jim Steranko effect!"
• Lambshead Cabinet: Win Jake von Slatt's Mooney & Finch Somnotrope!
• Tilda Swinton is The Woman Who Fell to Earth.
• XXth Century Avantgarde [sic] Books at Flickr.
• Sound sculptures & installations by Zimoun.
• I'm The One (1972) by Annette Peacock.