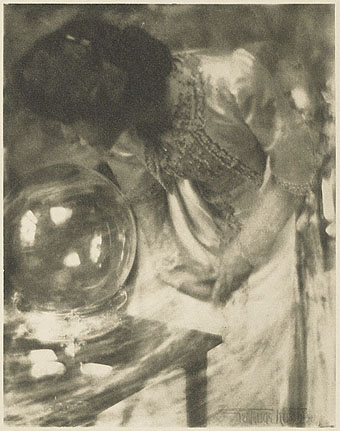 The Crystal Gazer (or The Magic Crystal, 1904) by Gertrude Käsebier.
• "I had to resort to extreme violence": how Hipgnosis revolutionised the album sleeve. Aubrey Powell, last surviving member of the design team, talks to Joe Muggs.
• Mixes of the week: Radio Belbury: Programme 14; The Conjurer's Hexmas by SeraphicManta; Secret Mix 139 by A Closer Listen.
• Social progress, high-speed transport and electricity everywhere: Iwan Rhys Morus on how the Victorians invented the future.
• At Cinephilia & Beyond: "The most complete investigation into the origins and making of Citizen Kane."
• Poor Souls' Light: seven curious tales for the end of the year, and a dedication to Robert Aickman.
• Music and the Occult: Stuart Maconie and Rob Young spend an hour in the magick circle.
• Alejandro Jodorowsky and Iain Sinclair in conversation at the British Library, July 2014.
• From 1972: An unpublished Victor Moscoso interview by Patrick Rosenkranz.
• The Spooky Story Behind Hollywood's Favourite Mansion.
• The Lost World of British Tape Recording Clubs.
• 2014 was a year of outrage.
• Pepper-Tree (1984) by Cocteau Twins | Otterley (1984) by Cocteau Twins | Aikea-Guinea (1985) by Cocteau Twins