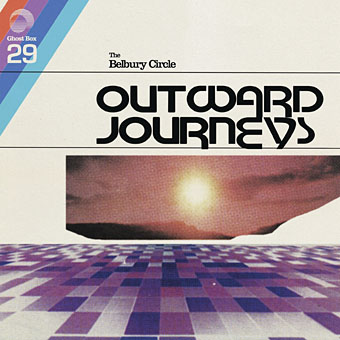 Outward Journeys, which will be released on November 3, is the second album on the Ghost Box label by The Belbury Circle (Belbury Poly with The Advisory Circle). As before, John Foxx is a guest vocalist, and as always, Julian House provides the graphic design.
• Music non-stop: Geeta Dayal in 2012 talking to Rebecca Allen about the challenges of turning Kraftwerk into computer animations.
• At the BFI: Jon Towlson on the sublimity of Close Encounters of the Third Kind; and Stephen King's favourite films.
• Bookogs is the Discogs concept applied to books. Stupid name (Bibliogs would be much better) but there it is.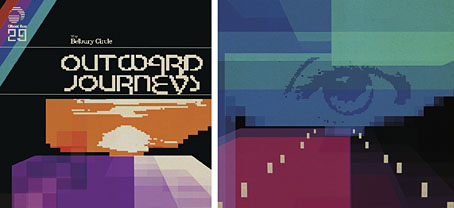 Julian House goes 8-bit. More artwork for The Belbury Circle.
• Iain Sinclair's farewell to London. Sinclair talked to Alan Moore about his book earlier this month.
• At Dangerous Minds: Paul Gallagher on the occult art of Austin Osman Spare.
• The places where Cold War numbers stations broadcast spies' secret codes.
• Rodney Brooks on the seven deadly sins of predicting the future of AI.
• Nadja Spiegelman on the peculiar poetry of Paris's Lost and Found.
• At Wormwoodiana: The rise of secondhand bookshops in Britain.
• RIP Grant Hart and Harry Dean Stanton. (And Dirge Magazine.)
• Mix of the week: FACT mix 618 by Tara Jane O'Neil.
• An introduction to Conny Plank in 10 records.
• Reoccurring Dreams (1984) by Hüsker Dü | Canción Mixteca (1985) by Ry Cooder | You Don't Miss Your Water (1993) by Harry Dean Stanton