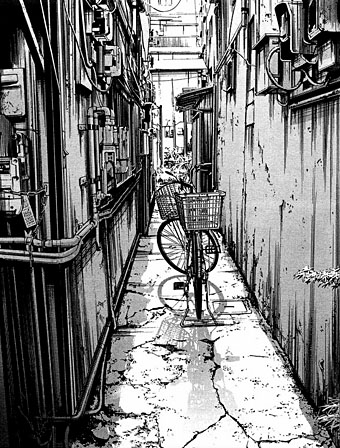 An urban scene from Yotsuba&! by manga artist Kiyohiko Azuma.
• The resurgence of interest in Alice Coltrane's music is very welcome even if she joins for the moment the list of those artists (usually women: see Leonora Carrington) tagged by editors as "lost", "forgotten", "unrecognised", etc. Alice Coltrane was only ever lost if you weren't paying attention, and was notable enough fifteen years ago to be given the cover of The Wire magazine. Articles appearing this week have been prompted by a compilation of the devotional music that Coltrane recorded for a series of self-released cassettes in the 1980s. Geeta Dayal writes about the creation of the ashram recordings, while Stewart Smith suggests starting points for new listeners.
• Mentioned here before, but there's now a page for the book: a new edition of Hashish (1902) by Oscar Schmitz will be published by Wakefield Press in November. "A collection of decadent, interweaving tales of Satanism, eroticism, sadism, cannibalism, necrophilia, and death", illustrated by Alfred Kubin.
• Mixes of the week: A Dark Entries mix for the 400th issue of The Wire, Procedure, LA, April 25, 2017 by Pinkcourtesyphone, and Secret Thirteen Mix 220, a 4-hour epic by Ricardo Gomez Y De Buck.
• More off-the-beaten-path film lists: Sarah Lyons for Dirge Magazine on three occult documentaries, and Terry Ratchett for Dennis Cooper on 18 needlessly obscured avant-garde films.
• An Island of Peace: James Conway on Amanda DeMarco's new translation of Walking in Berlin: A Flâneur in the Capital by Franz Hessel.
• Ryuichi Sakamoto talks to Aaron Coultate about overcoming cancer, The Revenant and his new album, async.
• Ingrid D. Rowland on Caravaggio: The Virtuoso of Compassion.
• "I think I am weirdly politically correct," says John Waters.
• Berliner Nächte Part 1 (1990) by Seigen Ono | Berlinerstrasse (1995) by Coco, Steel & Lovebomb | Berlin (1998) by Pole