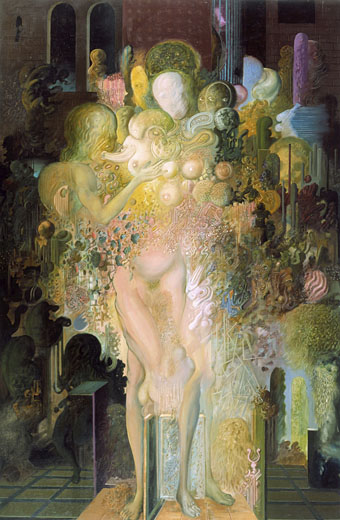 Untitled painting by Serbian Surrealist Ljuba Popovic (1934–2016). I missed the announcement of Popovic's death last year.
• Bryan Washington on the radical grace of Gengoroh Tagame: My Brother's Husband and the tradition of gay manga. Where bara artists are concerned, I favour the work of Mentaiko Itto. Bruno Gmünder recently published a collection in English.
• At madrotter-treasure-hunt: Post punk from old tapes; "Some live recordings from concerts in Holland from Charles Hayward and from This Heat, Metabolist, Pere Ubu, Holger Hiller…"
• Dennis Cooper's favourite fiction, poetry, non-fiction, film, music, art & internet of 2017 so far. (Thanks again for the nod to this blog!)
The Weird and the Eerie is an evocative and carefully-written short study in cultural aesthetics. Far from the familiar line-up of vampires, zombies, and demons, Fisher's eclectic examples speak directly to one of the central themes of the horror genre: the limits of human knowledge, the metamorphic shapes of fear, and the blurriness of boundaries of all types. His simple conceptual distinction quickly gives way to reversals, permutations, and complications, ultimately refusing any notion of a monstrous or alien unhumanness "out there"; with Fisher, the unhuman is more likely to reside within the human itself (or as Lovecraft might write it, "the unhuman is discovered to reside within the human itself").

Many books on the horror genre are concerned with providing answers, using varieties of taxonomy and psychology to provide a therapeutic application to "our" lives, helping us to cathartically purge collective anxieties and fears. For Fisher, the emphasis is more on questions, questions that target the vanity and presumptuousness of human culture, questions regarding human consciousness elevating itself above all else, questions concerning the presumed sovereignty of the species at whatever cost – perhaps questions it's better not to pose, at the risk of undermining the entire endeavour to begin with.

Eugene Thacker reviewing The Weird and the Eerie by Mark Fisher. I've not read Fisher's book yet (I'm intending to) but I was pleased to see one of my illustrations of R'lyeh accompanying the piece.
• At Dirge Magazine: Gwendolyn Nix on Twisted Labyrinths, Dark Mazes, and Ancient Methods of Reflection.
• Mixes of the week: XLR8R podcast 498 by Nicola Kazimir, and Secret Thirteen Mix 227 by Sculpture.
• AO Scott reviews Endless Poetry, Alejandro Jodorowsky's surreal self-portrait.
• Maze Of Love (1968) by The Dave Clark Five | Audiomaze (2000) by Tabla Beat Science | Into The Maze (2012) by Pye Corner Audio