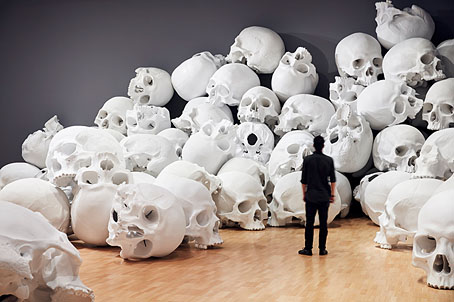 Mass by Ron Mueck at the National Gallery of Victoria Triennial. Photo by Tom Ross.
• Thanks of the week: to In Wild Air for asking me to fill their list of six favourite things; to Hodderscape for including my cover for Jeannette Ng's Under the Pendulum Sun among their choice of best book covers of the year; and to Dennis Cooper for listing this blog among his own end-of-year favourites. Ta, all!
• New/old music: The Quietus reissues, etc, of the year, new Pye Corner Audio, Soul Jazz presents Deutsche Elektronische Musik 3, and The Cleansing is a new album by Annabel (lee).
• Mixes of the week: Seeing The Forest For The Trees by Gregg Hermetech, FACT mix 631 by Zola Jesus, and Secret Thirteen Mix 240 by Restive Plaggona.
Were a normally sexed person to enter such an establishment, he might be puzzled to see so many finely dressed men sitting there with soldiers, though he would find nothing particularly offensive. The friendships between homosexuals and soldiers forged here over sausage, salad and beer frequently endure for the full term of service, and often longer. The soldier returns home, living as a married farmer far from his beloved Berlin garrison, but many a uranian still receives freshly killed quarry as a token of friendship. Sometimes these relationships are even passed on to younger brothers; I know one case where a homosexual had relations with three brothers one after the other, all of whom were with the Cuirassiers.

An extract from Berlin's Third Sex by Magnus Hirschfeld, one of the new titles from Rixdorf Editions. Ostensibly straight soldiers supplementing their income by having sex with "uranians" was still a common thing decades later, as detailed in John Lehmann's In The Purely Pagan Sense.
• The Cremator (1968) a film by Juraz Herz, was reviewed on these pages a while ago. It's now out on region-free blu-ray. Highly recommended.
• At Wormwoodiana: Mark Valentine on a map of old Dunwich, and Egypt in England.
• Clive Hicks Jenkins on Mapping the Tale: image making and the narrative tradition.
• Wyrd Daze returns with a free pdf, and a mix by The Ephemeral Man to download.
• At the BFI: Chris Gallant on where to begin with giallo cinema.
• The Parisian Cabinet of Curiosities Loved by Wes Anderson.
• Mass Production (1977) by Iggy Pop | Mass (1981) by Yellow Magic Orchestra | Mass Transit Railway (1997) by Monolake