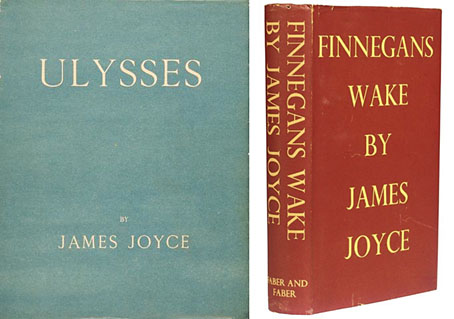 First editions of Ulysses (1922) and Finnegans Wake (1939).
I like Peter Mendelsund's book cover designs so it's good to find the designer given the opportunity to provide new covers for James Joyce. Mendelsund's blog post announcing the news mentions nothing about his intentions, instead we have a reminiscence about Ireland à la Molly Bloom, and pictures of the three covers below.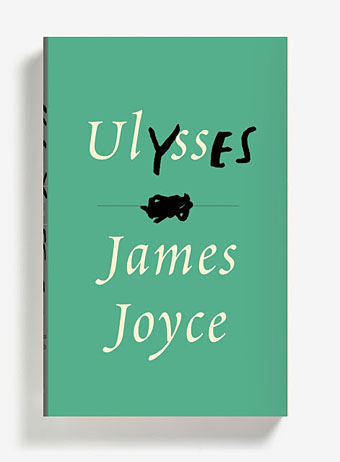 I've never felt a pictorial treatment works with Joyce; his books, especially the Big Two, concentrate so much on words and the labyrinths made by language that anything other than a purely typographic treatment seems superfluous. Art directors going the pictorial route generally end up using familiar photos of the author or views of Dublin circa 1900. The first editions of Ulysses and Finnegans Wake set the pattern for many later editions, and I'll guess it's that pattern which Peter Mendelsund has followed here. The typeface used is Poetica, a Robert Slimbach design from 1992, completed by what may be Joyce's own hand (I'm guessing again) in the manner of the author's corrected typescripts. The amendments for Dubliners and Portrait of the Artist don't require explanation but what about the title of Ulysses? I'd read this (so to speak) as representing the novel's two main characters—Stephen Dedalus: the cold and precise man of letters, and Leopold Bloom: the all-too-human Everyman—who in their circumambulation and eventual meeting comprise the twin poles of the story. There's also a subtle and clever allusion to Molly Bloom but I'll let you find that…
The three new books will be published by Vintage but I've not managed to find a publication date.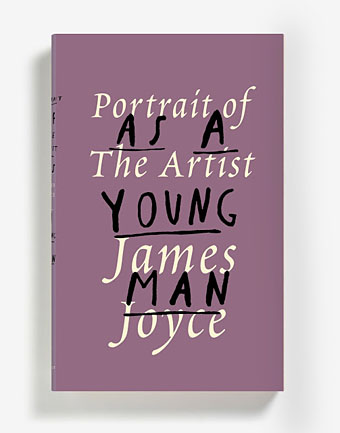 In other Joyce news, the first Chinese translation of Finnegans Wake has proved to be a surprising bestseller. And I ought to mention that Lord Horror: Reverbstorm, my own Joycean excursion (among other things) with David Britton, is now available at Amazon. You can, of course, still buy the book direct from the publishers.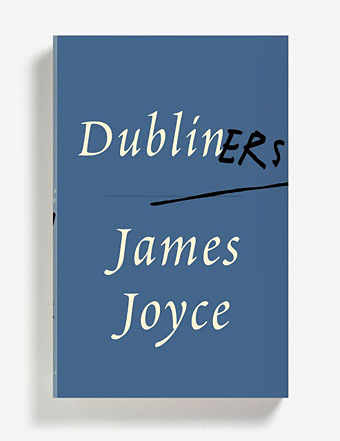 Elsewhere on { feuilleton }
• The book covers archive
Previously on { feuilleton }
• James Joyce in Reverbstorm
• Joyce in Time
• Happy Bloomsday
• Passages from James Joyce's Finnegans Wake
• Books for Bloomsday