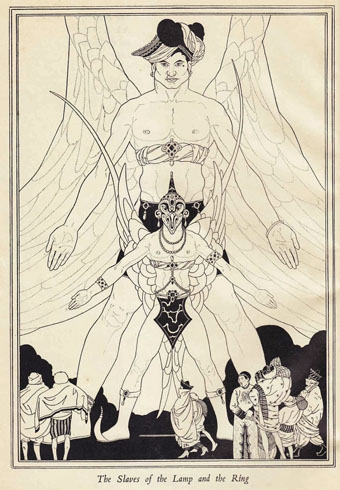 An illustration by John Kettelwell for The Story of Aladdin and the Wonderful Lamp (1928).
• "The strain in everything I write, of not being taken with the bounteousness of humankind, was also the attitude of both my parents." Jonathan Meades talking to James Kidd about his forthcoming memoirs.
• 7 Trumps From the Tarot Cards and Pinions (1969), and album of electronic music by Ruth White, is being given a limited vinyl reissue. Related: Ruth White—An American Composer.
• 82 minutes of Michael Moorcock talking in 1972 to Jean-Pierre Turmel, co-founder of the Sordide Sentimental record label.
If Verne's protagonists often seem to stop short of revelation, it's because the revelation is not meant to be known. Revelation has a way of putting man back at the front of the evolution chart, moving neatly toward a happily progressing future, out of the darkness and into the light. The characters who embark upon the Voyages Extraordinares move backward and forward and all about, spun around like blindfolded children trying to pin the tail on the donkey. The point of the adventure, after all, is not to have a conclusion; it is to get knocked off your feet.

Stefany Anne Golberg on Journey to the Center of the Earth at 150.
• Photographs of pre-Haussmann Paris by Charles Marville, and photographs by Amy Heiden of industrial ruins.
• Mixes of the week: FACT Mix 427 by Wild Beasts, and Secret Thirteen Mix 108 by Kangding Ray.
• Hear Italo Calvino read selections from Invisible Cities, Mr Palomar and others.
• William S. Burroughs in Dub conducted by Dub Spencer & Trance Hill.
• Cycles, Returns & Rebirth: Alexander Tucker on Derek Jarman.
• Harold Budd: the composer with no urge to make music.
• The Museum of Imaginary Musical Instruments.
• 80 minutes of Monolake playing live in 1999.
• At 50 Watts: Dyl's Dance.
• Owls And Flowers (2006) by Belbury Poly | Learning Owl Reappears (2011) by The Advisory Circle | The Owls (2013) by Félicia Atkinson