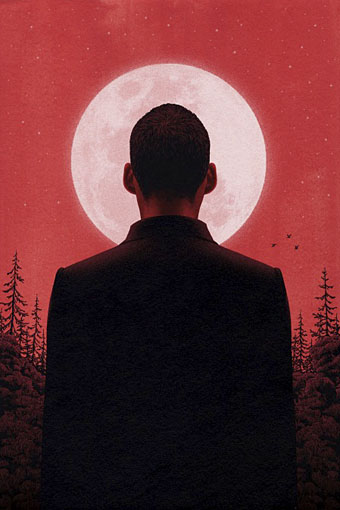 Byronic I by Boris Pelcer. Via Full Fathom Five.
• "Music determines everything in terms of our narrative. Music demands, music suggests. Whereas traditional Hollywood animation is all based on character development—you know, there's Toy Story and it's Tom Hanks's voice pushing the thrust of the action. For us, décor is all part of it. It's the objects, a sense of atmosphere, the stimmung (mood) of what's happening in this landscape where the puppet is just, invariably, a tiny element." The Brothers Quay talking to JW McCormack about their films, and about Quay, a short documentary by Christopher Nolan.
• Croissants with Cthulhu: Stephanie Gorton Murphy reports on the Cthulhu Prayer Breakfast at last week's NecronomiCon. I didn't attend this: abject silliness is the last thing I want at 8 o'clock in the morning.
• "…a light daze for the rest of the afternoon, detrimental to studying but advantageous for daydreaming." Italo Calvino on his cinema-going youth.
Only in that brief moment of absolute uncertainty – when both options seem equally plausible and implausible, when neither thought can be accepted or rejected, when everything can be explained and nothing can be explained – only in that moment do we really have this horror of philosophy, this questioning of the principle of sufficient reason. It is for this reason that Todorov qualifies his definition by stating that the "fantastic occupies the duration of this uncertainty."

Eugene Thacker in an extract from Tentacles Longer Than Night (Horror of Philosophy, vol. 3), Zero Books, 2015
• It's always good to hear some new rumblings by Emptyset. The Guardian has a stream of side 1 of the latest release, Signal.
• David Rudkin's Penda's Fen receives a film screening at the Whitechapel Gallery, London, on Saturday, 5th September.
• Sea Calls Me Home, another song from the forthcoming Julia Holter album.
• Digital visualizations of imagined future landscapes by Mike Winkelmann.
• Mix of the week: The Ivy-Strangled Path Vol. IX by David Colohan.
• Cherchez la femme: Women and Surrealism at Sotheby's, NYC.
• At It's Nice That: 50 years of A Humument by Tom Phillips.
• April 16, 1963: Housewife on LSD
• Signal (1981) by Phew | Signals (1983) by Brian Eno with Daniel Lanois and Roger Eno | Signals (2010) by The Soundcarriers