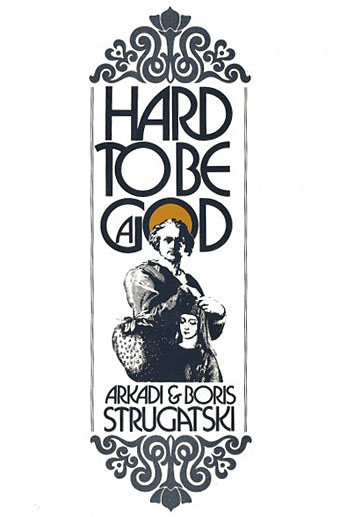 First English-language edition of Hard to Be a God, 1973. Cover design by Alan Peckolick.
A group of scientists is sent to the planet Arkanar to help the local civilization, which is in the Medieval phase of its own history, to find the right path to progress. Their task is a difficult one: they cannot interfere violently and in no case can they kill. The scientist Rumata tries to save the local intellectuals from their punishment and cannot avoid taking a position. As if the question were: what would you do in God's place?
Hard to Be a God is a 170-minute Russian science-fiction film based on a novel by Arkady & Boris Strugatsky, the authors of Roadside Picnic. The film was the magnum opus of director Aleksey German (1938–2013) who died shortly before post-production was complete. German's wife and son finished the film.
"…the wonder about this exhausting, astonishing film is not that it took so long to make, it's that it got made at all," says Gabriel Winslow-Yost; "one of the most consistently disgusting films ever made," says Glenn Kenny, "…not only an unforgettable individual masterpiece but probably one of the capital-G Great Films."; "There are no bones to be made about it, Hard to Be a God is a modern masterpiece," says Matt Thrift.
This pushes all of my cinematic buttons, of course, so now I'm itching to see it. YouTube has trailers, and (if you must) you can also find the entire film without subtitles. I'd rather wait for a disc version. Meanwhile, Chicago Review Press have republished the novel with a new translation by Olena Blumberg and a foreword by Hari Kunzru.
• At the Guardian John Doran recommends new Middle Eastern and North African music; the playlist includes a song from the forthcoming album by Melechesh which features my cover art. At the Quietus this week Doran explored Manchester's urban wastelands with local musician Julie Campbell aka Lonelady.
• "Research into psychedelics, shut down for decades, is now yielding exciting results," says Michael Pollan. Related: Ryan Cooper on why the [US] government should be funding mass scientific studies of Ecstasy, magic mushrooms, and LSD, and "Early humans used magic mushrooms, opium".
Dad combined porn with all manner of genre fiction. He wrote pirate porn, ghost porn, science-fiction porn, vampire porn, historical porn, time-travel porn, secret-agent porn, thriller porn, zombie porn and Atlantis porn. An unpublished Old West novel opens with sex in a barn, featuring a gunslinger called Quiet Smith, without doubt Dad's greatest character name. By the end of the decade, Dad claimed to have single-handedly raised the quality of American pornography.

Chris Offutt on the prolific writing career of his father, Andrew Jefferson Offutt V
• The Sound Repository 2 by Wizards Tell Lies, a free collection of "rare tracks, demos, early and alternative versions" at Bandcamp.
• Jennifer Rothwell's new fashion collection uses prints based on Harry Clarke's stained-glass windows.
• Mix of the week: My Body Full Of Stars, an Afrofuturism mix by Oyinboy.
• Terry Gilliam's title sequence for Cry of the Banshee (1970).
• Endless Endless: Kraftwerk at Tumblr.
• Sehr Kosmisch (1974) by Harmonia | Walky-Talky (1975) by Harmonia | Sometimes In Autumn (1976) by Harmonia 76