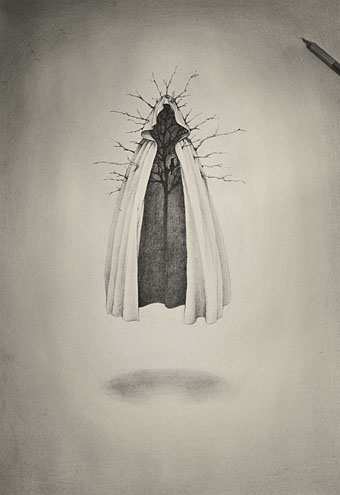 King's Cloak (2012) by Alice Lin.
• The week in Finnegans Wake: illustrations by John Vernon Lord for a new Folio Society edition; The Guardian's review from 1939; Christina Scholz explores Joyce's use of the Ant and the Grasshopper fable; Sheng Yun wonders when Dai Congrong will compete the first Chinese translation of the book; Stephanie Boland on riverrun, the latest theatrical adaptation.
• It's Robert Aickman's centenary year so Faber are reissuing several volumes of his peerless "strange stories". And it's good to see the great Clark Ashton Smith finally receive the blessing of Penguin Classics.
• The Teenage Boyfriend of the Beat Generation: Marcus Ewart slept with Allen Ginsberg (who showed him how to give a proper blowjob), and had an eight-year relationship with William Burroughs.
Yet another advocate of shorter work time was JS Mill. He dismissed the 'gospel of work' proposed by Thomas Carlyle in part because it drew a veil over the real costs of work, including slave work that Carlyle sought to defend. Instead, Mill advocated a 'gospel of leisure', arguing that technology should be used to curtail work time as far as possible. This stress on technology as a means to shorten work time was later to feature in Bert­rand Russell's 1932 essay, 'In Praise of Idleness'.

David Spencer on The Case for Working Less
• More Steve Moore memorials: Mitch Jenkins put the pages from Unearthing online, while Pádraig Ó Méalóid posted a personal appreciation at The Beat.
• Linda Marsa on how psychedelics are helping cancer patients deal with their illness.
• The Weird Album: art by Enrique Alcatena (including some Lovecraftian pieces).
• Didgeridoom: Director Ted Kotcheff talks to Robert Barry about Wake in Fright.
• The Jealous God (1985), a comic strip by Alejandro Jodorowsky & Silvio Cadelo.
• The Dune in Your Head: Ethan Gilsdorf on the greatest SF film never made.
• 50 minutes of Kraftwerk on Rockpalast in 1970. Astonishing.
• At 50 Watts: Sheet-music covers from Sweden in the 1920s.
• Harvard discovers old library books bound in human skin.
• Same-sex marriage is now legal in England and Wales.
• Wyrd Daze has reached issue 5.
• Kaleidoscopes at Pinterest.
• Flight From Ashiya (live on TV! 1967?) by Kaleidoscope (UK) | Lie To Me (1969) by Kaleidoscope (US) | Kaleidoscope (1984) by The Rain Parade