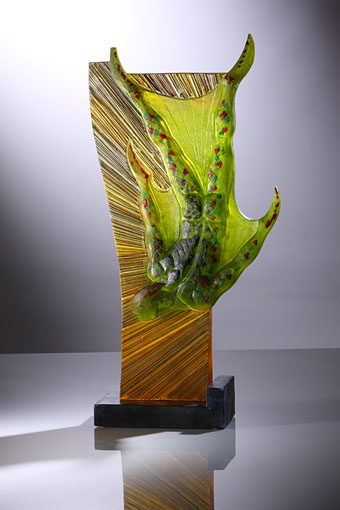 Untitled glass sculpture by Richard Roberts.
• Lord Horror: Reverbstorm, my collaboration with David Britton, makes The Quietus list of Literary Highlights of 2013. At the same site there's Russell Cuzner talking to English Heretic. "His methodology takes in magick, psychogeography and horror film geekdom, along with firm roots in Britain's industrial music culture of the early 1980s, to form potent, novel topographies of an otherwise unconnected world of occultists and psychopaths."
• A slew of London links this week: Geoff Manaugh on how the capital was redesigned to survive wartime blackouts, a piece which inadvertently explains why you see so much black-and-white street furniture in post-war films | Bob Mazzer's photos of the London Underground in the 1970s and 1980s | Philipp Ebeling's photos of the capital and its inhabitants today.
• "Science has become an international bully. Nowhere is its bullying more outrageous than in its assault on the phenomenon known as subjectivity." David Gelernter on "The Closing of the Scientific Mind". Related: "When Science Becomes Scientism" by Stanislav Grof.
• My favourite book about Orson Welles is This is Orson Welles (1992), a collection of Peter Bogdanovich's interviews with Welles edited by Jonathan Rosenbaum. Bogdanovich's interview tapes can now be heard at the Internet Archive.
• Brian Dillon on Dada collagist Hannah Höch who he calls "art's original punk", and Sean O'Hagan talking to another collage artist, Linder Sterling, who says "Lady Gaga didn't acknowledge I wore a meat dress first".
• One Hundred Years Of Weird Fear: Daniel José Older on HP Lovecraft's literature of genealogical terror. More fear (and Lovecraft): Will Wiles on the growth of Creepypasta.
• The Last Alan Moore Interview? A lengthy discussion with Pádraig Ó Méalóid. Shunning interviews hasn't done Cormac McCarthy any harm so if I was Alan I wouldn't worry.
• And speaking of Cormac McCarthy, the headline of the week: "Cormac McCarthy's ex-wife busted after pulling gun from vagina during alien argument".
• Where the bodies are buried: Mick Brown presents a potted biography of Kenneth Anger who offers a few reluctant quotes.
• A short animation for gore-obsessed kids: Pingu's The Thing by Lee Hardcastle.
• Helen Yentus designs a 3D-printed slipcase for a novel by Chang-rae Lee.
• Ralph Steadman's illustrations for Alice's Adventures in Wonderland.
• Mix of the week: Secret Thirteen Mix 103 by Lustmord.
• Collage art at Pinterest.
• No Escape (1966) by The Seeds | Pushin' Too Hard (1966) by The Seeds | No Escape (1979) by Cabaret Voltaire | Pushin' Too Hard (1982) by Paul Parker