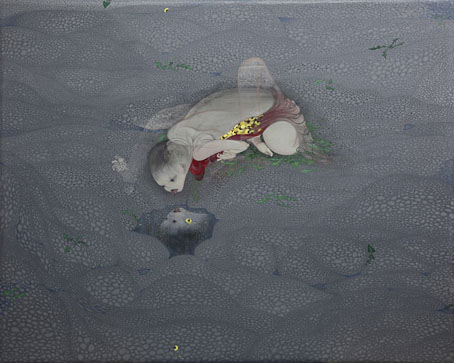 Dandelion (2009) by Tomoko Kashiki.
• "Standard Ebooks takes ebooks from sources like Project Gutenberg, formats and typesets them using a carefully designed and professional-grade style guide, lightly modernizes them, fully proofreads and corrects them, and then builds them to take advantage of state-of-the-art ereader and browser technology."
• Obscenity and the Arts, a previously unpublished essay by Anthony Burgess, will appear in book form later this year via Pariah Press.
• Mixes of the week: VF Mix 97: Talk Talk by The Last Dinosaur, and Secret Thirteen Mix 225 by Janek Schaefer.
Rub any two writers together and similarities will show. No two writers, however different, are completely different. Here's a crucial instance: Lovecraft and Ballard both put architecture at the heart of their fiction, even though neither had the slightest formal training in the subject. And it is via this interest that the two intersect in an unexpected way. They are connected, through time and space, by that most humble of architectural events: the corner, the junction between two walls. What Lovecraft and Ballard did was to make the corner into a place of nightmares — and in doing so, they reveal its secret history.

Will Wiles in a long and rewarding essay, The Corner of Lovecraft and Ballard
• Dungeons Deep, Forests Dark – A beginner's guide to Dungeon Synth by Daniel Pietersen.
• Alex Ross on Joséphin Péladan, the Symbolists and the occult roots of Modernism.
• Cooling the Tube: engineering heat out of the [London] Underground by IanVisits.
• Caroline on the mysteries of Pye Corner: Flames, poltergeists and bodysnatchers.
• The Saint of Sin City – Tony Kail Visits Las Vegas' Santuario de la Santa Muerte.
• Photographs of Art Nouveau architecture by Keiichi Tahara.
• A stream of the new Porter Ricks album, Anguilla Electrica.
• Jasper Sharp on 100 years of Japanese animation.
• At Dennis Cooper's: 197 clocks.
• On The Corner [Take 4] (1972) by Miles Davis | Corner Crew Dub (1976) by Augustus Pablo | Empty Avenues And Dark Corners (Pye Corner Audio Mix) (2013) by John Foxx and the Belbury Circle