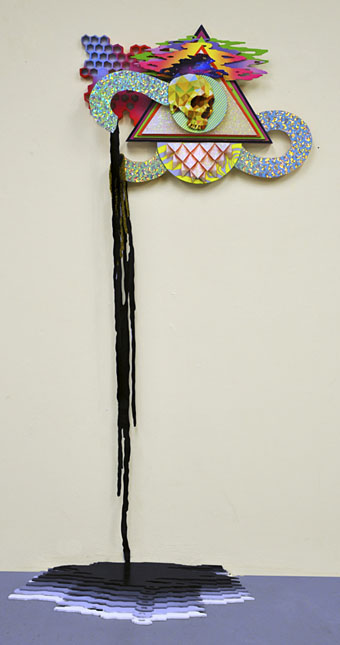 The End of a Thousand Years (2014) by Hilary White. Via Phantasmaphile.
• It's taken a while to shamble into the world but A Mountain Walked, an anthology of Cthulhu Mythos stories edited by leading Lovecraft scholar ST Joshi, will be published by Centipede Press next month. The publisher's page for the book shows that my contribution will be facing Joshi's introduction which is something I wasn't aware of until this week. It also says the 692-page limited edition is sold out, although book dealers often buy collectible volumes such as this to sell on after adding their own markup. Be warned that it was listed on Amazon at $160 so if there are copies available anywhere they won't be cheap.
• It's not such a surprise to hear that magic mushrooms were an inspiration for Frank Herbert's Dune. David Lynch's film of Dune receives passing mention in this profile by Jeremy Kay of Lynch and the Twin Peaks film/TV series.
• "Whitechapel station is one of Giambattista Piranesi's imaginary prisons, colonised by frantic electrical engineers and watched over by CCTV." Will Wiles on the chaos and tangled energy of modern cities.
The word perfume comes from the French root "fume"—smoke—and where there's smoke, there's fire! I think most people are turned on sexually by scents and smells. Certain body odours can be very sexually stimulating. We purposefully chose certain ingredients for my Obscenity perfume that are associated with occult or religious rituals, including vetiver, labdanum, and oud, and others that are considered aphrodisiacal, including patchouli and sandalwood. The point of Obscenity is that there is no conflict between the religious and the sexual, and in fact they should be completely complimentary. The fragrance is meant to stimulate you sexually, but it also literally contains water from Lourdes, so it also has religious notes and perhaps even healing properties!

Bruce LaBruce talks to Kathy Grayson about his new fragrance, Obscenity
• The Baffler, "a journal of iconoclastic wit and cultural analysis" relaunches with full access to its archives from 1988 to the present.
• Pineal, the new album by Othon, is dark and "properly, brilliantly queer," says David Peschek.
• At Core77: How to improve the audio quality of vinyl records with wood glue.
• P. Adams Sitney interviews Kenneth Anger on WNYC's Arts Forum (1972).
• At BibliOdyssey: Le Bestiaire Fabuleux by Jean Lurçat.
• Mix of the week: Secret Thirteen mix 123 by Evol.
• Perfumed Metal (1981) by Chrome | Fragrance (Ode To Perfume) (1982) by Holger Czukay | The Perfume (2006) by Johnny Klimek, Reinhold Heil, Tom Tykwer