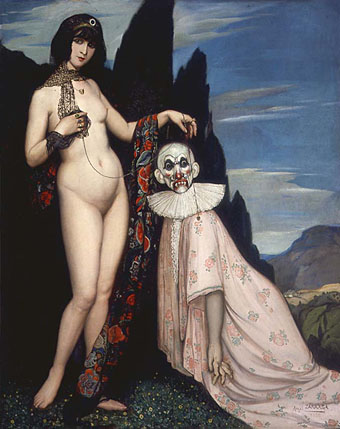 La femme et le pantin (1909) by Ángel Zárraga.
• RIP John Berger. Berger's essential TV series on art, Ways of Seeing (1972), is at YouTube and Ubuweb; "Such freedom is unthinkable today," says series director Mike Dibb; the book of the series was designed by Berger and Richard Hollis; ways of seeing Ways of Seeing; Geoff Dyer, Olivia Laing & Ali Smith on Berger; M. John Harrison on Berger.
• The beginning of January means the LRB posting Alan Bennett's diary for the previous year. In related news, Network DVD will be releasing Six Plays by Alan Bennett next month, a collection that includes a favourite of mine, Me! I'm Afraid of Virginia Woolf (1978).
• At Dennis Cooper's: Acid Westerns Day (Restated). Related: Jodorowsky's El Topo and The Holy Mountain are being released on Blu-ray (Region B) by Gryphon Entertainment.
The acre of suburban lawn surrounding our house became like the Paramount lot for my feverish theatrics. I graduated to building "spook houses" in the family garage out back. Inspired by the ride-through Trimper's Haunted House in Ocean City, Maryland, designed by Bill Tracy (and it's still there in operation), I remembered excitedly wheeling through this attraction in these rickety little coffin-shaped cars and dreaming of befriending the crudely built, motorized corpses, cannibals, and skeletons who lived inside. I fantasized the cars breaking down, the panicked, chickenshit children screaming, bolting from their seats, tripping over live wires, and electrocuting themselves. I wanted to take this imagined fear, this frightened happiness, back to my own house where I knew I could preserve, protect, and stylize it on my own adolescent terms.

John Waters on his childhood home
• Strange Flowers' latest reading recommendations include books on lesbian decadence, occult Paris, flâneurie and the queerness of the Benson family.
• Where Evil Dwells (1985), a 28-minute preview of a longer piece of weird cinema (now destroyed) by Tommy Turner and David Wojnarowicz.
• Francis Ford Coppola and Brian De Palma having a conversation about Coppola's The Conversation.
• The Edge Question for 2017: "What scientific term or concept ought to be more widely known?"
• Mixes of the week: Drone Theory with Roly Porter, and Secret Thirteen Mix 205 by Stavaris.
• Simran Hans suggests where to begin with the films of Todd Haynes.
• More decadence, this time among the Mexican Modernists.
• Moon Wiring Club at Bandcamp.
• No Name, No Slogan (1989) by Acid Horse | Those Tapes Are Dangerous (1997) by The Bug | Spooky Action At A Distance (2014) by Sqürl