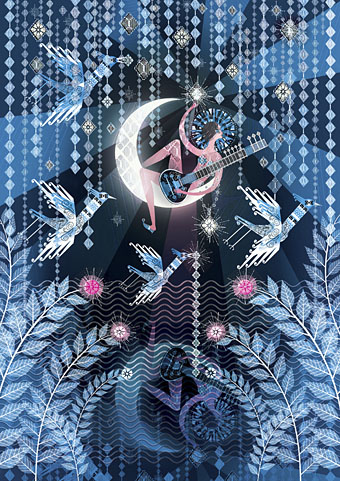 Lucy in the Sky with Diamonds (2012) by Lesley Barnes. She also has peacock wrapping paper.
Big thanks to Dennis Cooper for including this blog in his favourite music, fiction, poetry, film, art & internet lists for 2012. Lots of good company there. One benefit of end-of-year lists is the way they suggest things to look for in January.
• "…the best pictures of dicks that I've ever seen…" Rudy Rucker reviews Malcolm McNeill's The Lost Art of Ah Pook Is Here and Observed While Falling, out at last from Fantagraphics. Rucker notes that William Burroughs' text is still only available in out-of-print editions in which case you'll need a book dealer. Elsewhere, Burroughs: The Movie has cleared 50% of its restoration Kickstarter goal but still needs supporters.
• Julia Holter has been a recurrent presence in these posts since the release in March of her acclaimed second album, Ekstasis. FACT has an alternate version of the album's opening song, Marienbad, one of the extra tracks on the recent UK reissue.
Suttree's saga carried me down, down, down to the bottom of a heightened surrogate reality, a nadir where the rarest jewels of clarity are found. The fourth time through the novel I arrived at a state of barometric equipoise, a balancing between my mental state and Suttree's. Then, as he descended again, I began to rise. There was a hypnotic poetry to his fall — his life disintegrated, then the fragments disintegrated, then those fragments followed suit ad infinitum.

Jim White on the life-preserving qualities of Suttree by Cormac McCarthy.
• "An 18-year-old boy who discovers he has a fetish for the aged gets a job in a nursing home and develops an intimate relationship with one particular old man." Gerontophilia, a proposed film by Bruce LaBruce, is looking for funding.
• Can't wait for this: Groenland Records announces Who's That Man?, a four-CD set of music produced and performed by Conny Plank. FACT has a track list.
• At BUTT magazine: Pink Courtesy Phone Mix by Richard Chartier, a great selection of electronica old and new.
• Another end-of-year list: Volumes 1 & 2 of The Graphic Canon are in NPR's Indie Bookseller best of 2012 selection.
• The Nightmare Paintings: art by Aleister Crowley currently touring Australia.
• Christmas with Monte: Colin Fleming on the ghost stories of MR James.
• "The war on drugs is a war on human nature" says Lewis Lapham.
• Alan Moore: why I turned my back on Hollywood.
• More electronica: Chris Carter discusses synths.
• Saul Bass poster sketches for The Shining.
• At Pinterest: The Pan Within.
• Ah Pook Is The Mayan God Of Death (1975) by William Burroughs | Panic (1985) by Coil | Light Shining Darkly (1992) by Coil.