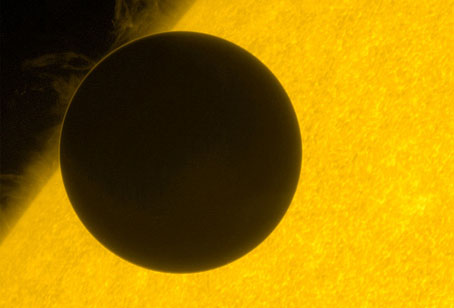 "Venus moves across the Sun in this image captured by Japan's satellite Hinode, on June 6, 2012." Via.
The imagery in Ah Pook covered a wide range of ideas. A train full of Mayan Gods for instance travelled through various time zones to end up alongside a carnival in a red brick town outside St Louis. Then they got out…out of the books Mr. Hart was reading on the train. Fact also alternated with fiction. We could be chugging along with Lizard boys in a Mayan City one moment then switch to a history of Immigration Laws in the US or the development of tape recorders and Speech Scramblers. Then switch to a bright red Shrew boy with a hard-on on a bicycle in Palm Beach at the end of the world. Time was what the book was about: defining it, controlling it and moving back and forth within it.

Malcolm McNeill
• Malcolm McNeill talks to The White Review about working with William Burroughs on Ah Pook Is Here. Related: Jan Herman as Publisher of Nova Broadcast Press. Reality Studio has all the Nova Broadcast publications as downloadable PDFs.
• More Graphic Canon news: design historian Steven Heller reports on the project while at Nashville Scene editor Russ Kick talks to Joe Nolan about the books.
• There's still a couple of days left to hear Martyn Wade's Blue Veils and Golden Sands, a BBC radio drama about electronic composer Delia Derbyshire.
"Venus in silhouette, seen between the Earth and Sun, from NASA's orbiting Solar Dynamics Observatory, on June 5, 2012." Via.
• From 2010: Video of an hour-long lecture by Alberto Manguel at Yale University on "Borges and the Impossibility of Writing".
• Bauhaus reflections: Frank Whitford on the design school and the exhibition currently running at the Barbican, London.
• "It's easier to be gay in the US army than it is to be gay in hip-hop." Zebra Katz, Mykki Blanco and the rise of queer rap.
• Back at the event site: Another extract from M. John Harrison's forthcoming novel Empty Space.
• Rare 1959 audio: Flannery O'Connor reads A Good Man is Hard to Find.
• Venus Transit 2012 – Ultra-high Definition View (NASA/ESA).
• The kitties just don't care: Indifferent cats in amateur porn.
• What happened to Dorothy Parker's ashes?
• Space Teriyaki 5 at 50 Watts.
• Venus/Upper Egypt (1991) by Sonny Sharrock | Venus (1996) by Funki Porcini | Venus (2003) by Air