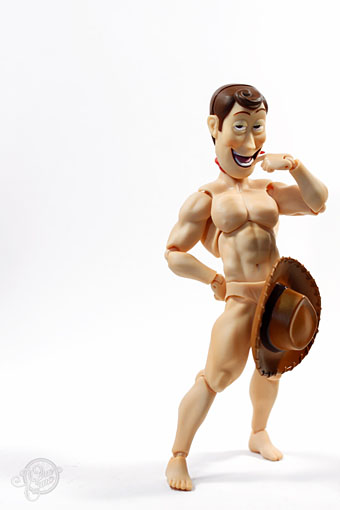 Did someone say "woody"? Plenty more toy antics at TheOneCam.
• And yet more Haeckelisms: Praying in Haeckel's Garden, recent works by artist Mary O'Malley.
• Seasons of the Peacock, the perennial showoff as depicted by a handful of Art Nouveau artists. A couple of examples there I hadn't seen before.
• Dorian Cope presents On This Deity, "Commemorating culture heroes and excavating world events."
• At long last, Fantagraphics will be publishing Ah Pook is Here, the comic strip collaboration between William Burroughs and artist Malcolm McNeill. Something to look forward to for next year. Related: Malcolm McNeill's website.
• David Lynch Dark Splendor: "Der große Filmemacher David Lynch als Fotograf, Maler, Zeichner und Grafiker."
• More on the forthcoming album from Brian Eno, Leo Abrahams and Jon Hopkins. With this degree of hype the end result is going to be a disappointment.
• Book design by Richard Hollis, including John Berger's essential Ways of Seeing.
• A fistful of Vignellis: the work of Lella and Massimo Vignelli celebrated.
• Berni Wrightson's Frankenstein at Golden Age Comic Book Stories.
• Jimi Hendrix, Philip José Farmer reader.
• El UFO Cayó (2005) by Ry Cooder.