Detail from La Havane by René Portocarrero; photo by C. Marker.
This week's book finds are a pair of titles I hadn't come across before in these particular editions, another haul from the vast continent that is the Penguin Books back catalogue. Labyrinths I've had for years in a later edition (see below) but the cover of this one seems more suited to Borges (as much as he can be illustrated) than the somewhat bland Surrealism of illustrator Peter Goodfellow. René Portocarrero (1912–1985) was a Cuban painter with a post-Picasso style who specialised in hallucinogenic profiles like the one here. And it's a guess but I'd bet the "C. Marker" who photographed the painting is French filmmaker Chris Marker (who I compared to Borges last year), director of La Jetée and Sans Soleil. Marker worked as a photo-journalist for many years and made a documentary entitled ¡Cuba Sí! in 1961.
Peter Goodfellow's work appeared on many fantasy and science fiction covers in the late Seventies and early Eighties. He painted covers for the complete run of Penguin reprints in this series from 1984 which also includes Doctor Brodie's Report, A Universal History of Infamy and The Book of Sand. Most of these were pastiches, based on paintings by Dalí, Bosch, de Chirico and the engravings of Andreas Vesalius. I used to wonder what happened to Goodfellow whose work seemed to disappear some time in the late Eighties; a quick search reveals that he moved to Scotland to paint the mountains.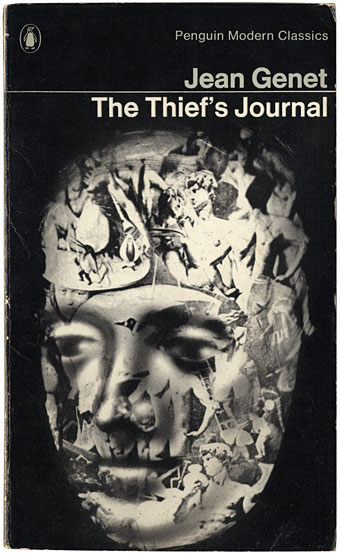 Photo-collage by Alan Aldridge.
Today's other purchase was this 1967 edition of Genet. Alan Aldridge produced a few covers for Penguin and other publishers at this time, often with mixed results. His brand of cloying psychedelic whimsy was more suited to his Beatles illustrations than JG Ballard's apocalypses or Genet's travails through poverty and prison. This cover restrains his usual impulses and departs from his airbrush style by mixing Michelangelo statues with (possibly) some muscle-mag figures. And there's a coincidental connection with the Goodfellow Borges paintings since Aldridge has also sampled from Hieronymous Bosch's Garden of Earthly Delights. What all this has to do with Jean Genet—aside from the lazy equation that both Michelangelo and Genet were gay—is anyone's guess.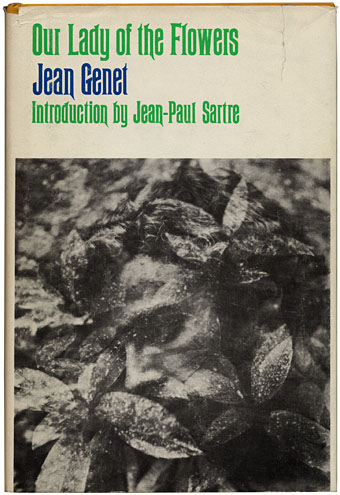 Photo by Emil Cadoo; design by Roy Kuhlman.
Far more successful Genet covers were Roy Kuhlman's designs for Grove Press which included this hardback edition from 1963. Kuhlman, who died earlier this year, created over 700 (!) designs for the publisher and provided covers for editions of Genet's plays as well as his novels. The woodtype typeface (of which the Rubens font is a contemporary equivalent) was used on several of the novels, sufficiently identifying that lettering style with Genet for it to be carried over onto subsequent paperback reprintings (below).
The AIGA has a page dedicated to Kuhlman's career.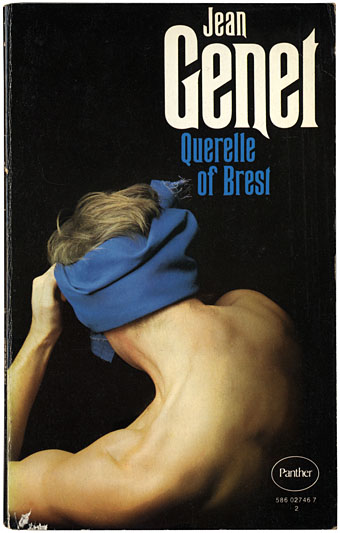 Photo by Roger Phillips.
The paperback editions of Querelle, Our Lady of the Flowers and Funeral Rites which Panther Books published in 1969 are still the most striking Genet covers I've seen. As is usual with paperbacks, no designer is credited but all three followed the same format of dark backgrounds with the Grove Press-derived typeface. Panther produced many great covers in the Sixties and Seventies, from literary titles to science fiction and horror; some of the latter can be seen in this collection.
Elsewhere on { feuilleton }
• The book covers archive
Previously on { feuilleton }
• Penguin designer David Pelham talks
• Sans Soleil
• Un Chant d'Amour by Jean Genet