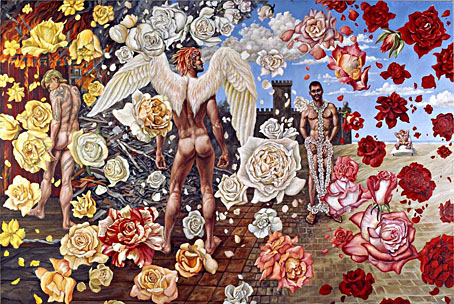 The Miracle (Genet's Dream) (2001) by Delmas Howe.
• "Zachary Lipton, an assistant professor at the machine learning department at Carnegie Mellon University, watched with frustration as this story transformed from 'interesting-ish research' to 'sensationalized crap'." Oscar Schwartz on how the media gets AI alarmingly wrong.
• The Aesthetics of Science Fiction: what does SF look like after cyberpunk? Very Brutalist if you ask Rick Liebling, although the first example shown in his piece—the Brunel University Lecture Centre—appears briefly as future architecture in A Clockwork Orange.
• At Expanding Mind: Erik Davis talks with philosopher and religious studies professor Dustin Atlas about ancient skepticism, Madhyamaka Buddhism, the taste of honey, Montaigne, Robert Anton Wilson, and the path of doubt.
• At Muddy Colors: Part 1 of their choices for best fantasy book covers of the year so far, a list which includes my cover for Moonshine by Jasmine Gower. Thanks!
• Soundtracking with Edith Bowman, episode 84: director Todd Haynes on the music of Wonderstruck, I'm Not There, Carol and Far From Heaven.
• Mixes of the week: FACT mix 663 by Space Afrika, Secret Thirteen Mix 262 by Mieko Suzuki, and Black Minimalism, a playlist by David Toop.
• Two minutes, eight barrels: drone and GoPro footage of surfer Koa Smith riding the waves of the Namibia shoreline.
• David Lynch's Sacred Clay: Shehryar Fazli reviews Room to Dream by David Lynch and Kristine McKenna.
• Charlotte Higgins on myths, monsters and the maze: how writers fell in love with the labyrinth.
• Monstrous Geometries in the Fiction of HP Lovecraft by Moritz Ingwersen.
• Listen to the mournful wails of planets and moons.
• A Peel Session by Laika
• Surf Ride (1956) by Art Pepper | Surf (1976) by Tim Blake | Surfside Sex (1982) by Patrick Cowley