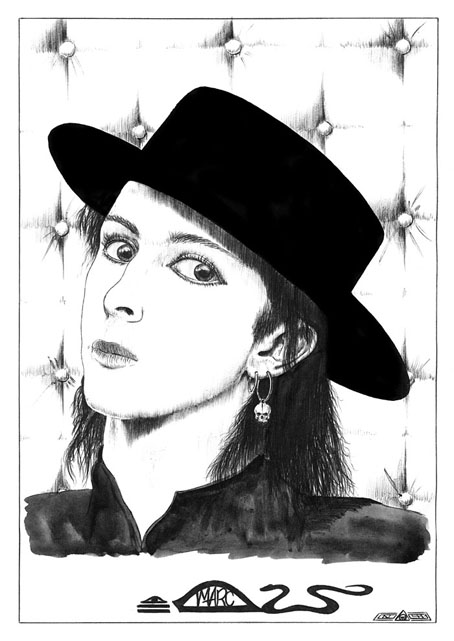 Marc Almond (1983) by John Coulthart.
This, girls and boys, is how we occupied ourselves in the long nights before the advent of 24-hour television: we sat up drawing portraits of Marc Almond. A conversation on Twitter reminded me of this, a drawing that's never before appeared in public but which is now added to the web collection. For a quick piece of art it's actually a lot more successful than many of the more laboured things of mine that were printed far and wide at this time. The portrait was copied from a magazine photo, I forget which one, possibly Flexipop if it was still going, an increasingly wayward title that had a soft spot (so to speak) for Soft Cell. The Spanish hat identifies it as being from the Torment and Toreros period while the lettering was taken from Val Denham and Huw Feather's cover design for the first Marc and The Mambas album, Untitled (1982). The padded-cell background refers, of course, to Marc's former group, and was copied from the back of the Bedsitter 12″. Most of the drawing is done in black Biro pen with the hat and shirt in gouache. On the back I happened to make a note of the date, something I seldom bother with.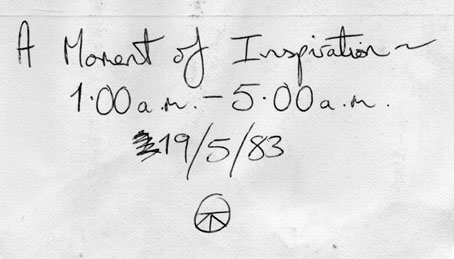 The Twitter conversation was prompted by the appearance of Soft Cell's notorious Sex Dwarf video at Dangerous Minds; Flexipop enjoyed the scurrilous side of Soft Cell so much they printed a still from this Bacchanal as a centre-spread in one of their issues. Meanwhile Marc himself was writing in the Guardian this week about Bowie manqué Jobriath, one of the real-life inspirations for the Brian Slade character in Todd Haynes' Velvet Goldmine, and the subject of a feature-length documentary, Jobriath A.D., by Kieran Turner, currently showing at the BFI's London Lesbian & Gay Film Festival.
Previously on { feuilleton }
• Derek Jarman's music videos