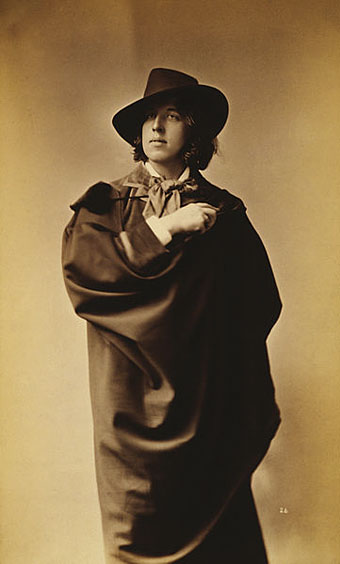 Oscar Wilde, no. 26 (1882). One of a series of photo portraits taken by Napoleon Sarony when Wilde was in New York.
Every day is an anniversary for something. Among other things, October 16th 2014 is the 160th anniversary of the day that Oscar Wilde was brought to Earth in a spaceship—see Velvet Goldmine for details—so in honour of that moment here's a few more Wildean links.
• One item of news I missed last month was Al Pacino's announcement that he'll be bringing his production of Wilde's Salomé to the London stage in 2016. Good to hear that his enthusiasm was sparked by the excellent Steven Berkoff production, and this detail is especially noteworthy: "There will be make-up, sets, costumes… and decadence. It will be a whole different thing to what we did in America."
• Turkish censors still have problems with Anglophone novels that publishers attempt to present in Turkish translations—the work of William Burroughs caused a fuss a couple of years ago—but last month an uncensored edition of The Picture of Dorian Gray was published there for the first time.
• Oscar Wilde's grandson Merlin Holland: "We've got as close as we can to hearing him speak" Holland has co-written The Trials of Oscar Wilde, a dramatisation of Wilde's court appearances which opens at Trafalgar Studios, London, this week.
• The extraordinary story of Oscar Wilde's holiday in Worthing in 1894. James Connaughton interviews Antony Edmonds about his new book, Oscar Wilde's Scandalous Summer: The 1894 Worthing Holiday and the Aftermath.
• The beau of Reading jail: was prisoner 1122 Oscar Wilde's lover? (The answer to any newspaper headline ending with a question mark is invariably "No".)
Elsewhere on { feuilleton }
• The Oscar Wilde archive