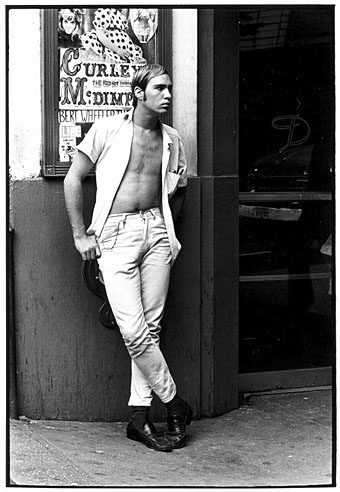 Male hustler standing on street corner (1967) photographed by William Gale Gedney.
One of those irresistible confluences of disparate things occurred this week. Watching Todd Haynes' fabulous Velvet Goldmine for about the tenth time at the weekend had me listening to Lou Reed's Transformer album the day after. The sight of these New York street photos by William Gale Gedney a couple of days later immediately brought to mind the lyrics of Walk On The Wild Side. The Guardian brought things full circle by posting the 1973 Lester Bangs interview with Lou Reed in which Transformer is discussed, and Reed gives the quote about the glam trend of appearing gay which Ewan McGregor's Curt Wild character—an amalgam of small parts of Reed and a huge dose of Iggy Pop—paraphrases in Velvet Goldmine:
Wax eloquent, for once and finally, he did. Listen kids, you may think you've got your identity crises and sexual lateral squeeze plays touchdown cold just because you came out in rouge 'n' glitter for Dave Bowie's latest show, but listen to your Papa Lou. He's gotta nother think for you punk knowitalls: "The makeup thing is just a style thing now, like platform shoes. If people have homosexuality in them, it won't necessarily involve makeup in the first place. You can't fake being gay, because being gay means you're going to have to suck cock, or get fucked. I think there's a very basic thing in a guy if he's straight where he's just going to say no: 'I'll act gay, I'll do this and I'll do that, but I can't do that.' Just like a gay person if they wanted to act straight and everything, but if you said, 'Okay, go ahead, go to bed with a girl,' they're going to have to get an erection first, and they can't do that."
Never one to mince words is our Lou. YouTube has a video of Reed's song which sets the music to shots of the real-life people mentioned in his lyrics, hustling Little Joe included. Those of a sensitive disposition should be warned that the surrounding videos seem to be filled with penises. The William Gedney photos are from a substantial collection at Duke University among which there's a set from a gay march and rally commemorating the tenth anniversary of the Stonewall Riot in 1979.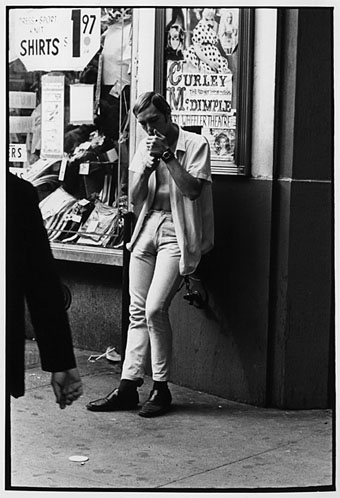 Male hustler standing on street corner and lighting cigarette; has shirt open (1967) photographed by William Gale Gedney.
Previously on { feuilleton }
• Lonesome Cowboys
• Les Demi Dieux revisited
• Les Demi Dieux