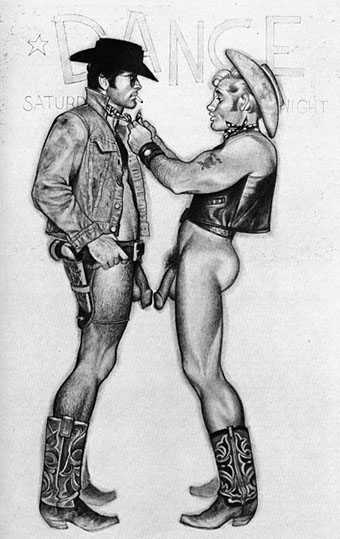 Years before Brokeback Mountain, and a few years before The Place of Dead Roads, another pair of gay cowboys were causing a stir on a T-shirt in the SEX boutique, London, a shop run by Malcolm McLaren and Vivienne Westwood in the mid-1970s. Paul Gorman's latest piece of pop archaeology examines the history and possible genesis of this shirt, one of a number designed by McLaren whose challenging nature made them ideal gear for the first wave of London's punks. SEX specialised in transgression (and was famously the birthplace of the Sex Pistols), selling fetish and bondage clothing, and with a variety of erotic material on its hand-made shirts. But it was the Cowboys image which caused the most fuss in 1975 when the shop-owners were prosecuted for "exposing to public view an indecent exhibition", a piece of police action that was all-too-common during that decade, especially where punks were concerned. McLaren's cowboys might seem quaint today but in 1975 this was a shocking image for a country which had only decriminalised homosexual acts eight years before, and where the only gay people in the media (although they never admitted it) were camp comedians and flamboyant sitcom stereotypes.
So much for the history but we still don't know the origin of the picture. Paul has his own theories; mine would be that McLaren borrowed this from one of the many gay mags which proliferated post-Stonewall. It's not a Tom of Finland drawing, and it's not George Quaintance either, an artist who drew many naked cowboys but never showed any genitalia. Vivienne Westwood still sells a version of the shirt: yours for ninety quid, dearie. Meanwhile, you can see a couple of the original Lonesome Cowboys here.
Update: That didn't take long… It was Jim French after all. Paul has the details.
Elsewhere on { feuilleton }
• The gay artists archive
Previously on { feuilleton }
• More Queer Noise