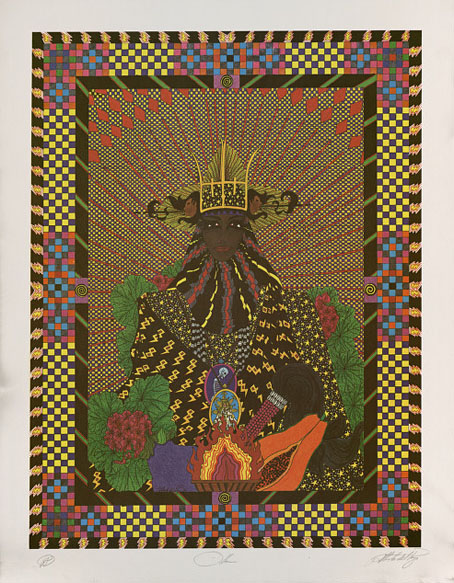 Oya by Alberto del Pozo (1945–1992). Also known as Yansa, Oya is Changó's third wife. She is the goddess of the winds and of lightning and is mistress of the cemetery gates. Passionate and brave she fights by her husband's side if needed. Her favorite offerings are papaya, eggplant and geraniums. From Santeria at BibliOdyssey.
Austin Osman Spare is a good example of the dictum that quality will out in the end, no matter how long it remains buried. Overlooked by the art establishment after he retreated into his private mythologies, a substantial portion of his output was equally ignored by occultists who wanted to preserve him as a weird and scary working-class magus. One group dismissed his deeply-felt spiritual interests in a manner they wouldn't dare employ if he'd been a follower of Santeria, say (or even a devout Christian), while the other group seemed to regard his superb portraits as too mundane to be worthy of attention. Now that Phil Baker's Spare biography has been published by Strange Attractor we might have reached the end of such short-sighted appraisals and can finally see a more rounded picture of the man and his work:
[Kenneth] Grant preserved and magnified Spare's own tendency to confabulation, giving him the starring role in stories further influenced by Grant's own reading of visionary and pulp writers such as Arthur Machen, HP Lovecraft, and Fu Manchu creator Sax Rohmer. Grant's Spare seems to inhabit a parallel London; a city with an alchemist in Islington, a mysterious Chinese dream-control cult in Stockwell, and a small shop with a labyrinthine basement complex, its grottoes decorated by Spare, where a magical lodge holds meetings. This shop – then a furrier, now an Islamic bookshop, near Baker Street – really existed, and part of the fascination of Grant's version of Spare's London is its misty overlap with reality.

Austin Osman Spare: Cockney visionary by Phil Baker.
• Austin Osman Spare: The man art history left behind | A Flickr set: Austin Osman Spare at the Cuming Museum | HV Morton meets Austin Spare (1927).
• More quality rising from obscurity: Jerzy Skolimowski's Deep End. Skolimowski's drama is one of unpleasant characters behaving badly towards each other. Anglo-American cinema featured a great deal of this in the 1970s when filmmakers disregarded the sympathies of their audience in a manner that would be difficult today. John Patterson looks at another example which is also given a re-release this month, the "feral, minatory and menacing masterwork" that is Taxi Driver.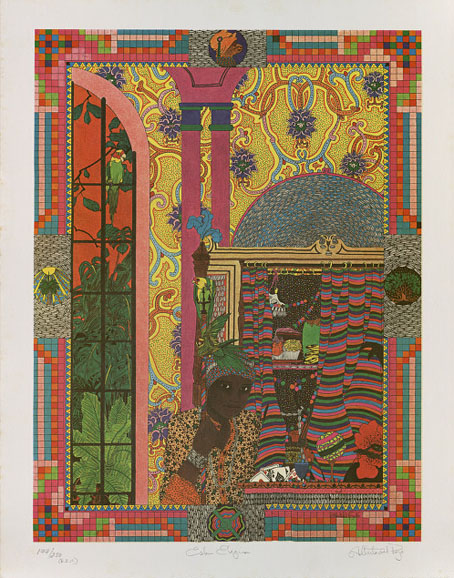 Echú Eleguá by Alberto del Pozo. Among the most ancient of the orishas Echú Eleguá is the messenger of the gods, who forges roads, protects the house, and is heaven's gate-keeper. In any ceremony he is invoked first. He owns all cowrie shells and is the god of luck. A prankster, Echú Eleguá frequently has a monkey and a black rooster by his side. Like a mischievous boy he enjoys gossip and must be pampered with offerings of toys, fruit, and candy.
• Minutes, a compilation on the LTM label from 1987: William Burroughs, Jean Cocteau, Tuxedomoon, Jacques Derrida, The Monochrome Set, and er…Richard Jobson. Thomi Wroblewski designed covers for a number of Burroughs titles in the 1980s, and he also provided the cover art for this release.
• Mikel Marton Photography: a Tumblr of erotic photography and self-portraits.
• From Death Factory To Norfolk Fens: Chris & Cosey interviewed.
• NASA announces results of epic space-time experiment.
• Oritsunagumono by Takayuki Hori: origami x-rays.
• Plexus magazine at 50 Watts.
• Mother Sky (1970) by Can | Late For The Sky (1974) by Jackson Browne.