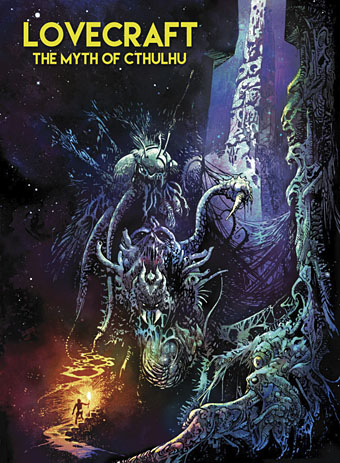 Lovecraft: The Myth of Cthulhu, an English-language edition of three comic-strip adaptations by Esteban Maroto, is now available from IDW.
• The Coffin House, a short story by Robert Aickman that's a taster for the new Aickman collection, Compulsory Games. Anwen Crawford wrote an introduction to Aickman's world of "strange stories" for The New Yorker. Related: Victoria Nelson, editor of the new collection, chooses ten favourite horror stories.
• German music this week at The Quietus: Sean Kitching talks to Irmin Schmidt about his years with Can; and there's an extract from Force Majeure, an autobiography by the late Edgar Froese, writing about the early days of Tangerine Dream.
• More German music at Carhartt WIP: a lengthy and revealing interview with guitarist Michael Rother about his time as one half of Neu!. There's also a bonus Neu!-themed mix (and one of the mixes of the week) by Daniel Miller.
• From October last year, a Stereoklang interview with master synthesist Hideki Matsutake (Logic System, Yellow Magic Orchestra, et al).
• "When did you first get interested in esoteric studies?" Gary Lachman interviewed at The Astral Institute.
• At Sweet Jane: early illustrations by Wojtek Siudmak for Plexus magazine, 1969.
• 87 prints and drawings by MC Escher in zoomable high-resolution.
• Meet the Small Press: James Conway of Rixdorf Editions.
• Mix of the week: Goodbyes & Beginnings by Zach Cowie.
• Derek Jarman on the trouble with shopping for clothes.
• Person To Person (1981) by Logic System | Plan (1981) by Logic System | Prophet (1981) by Logic System