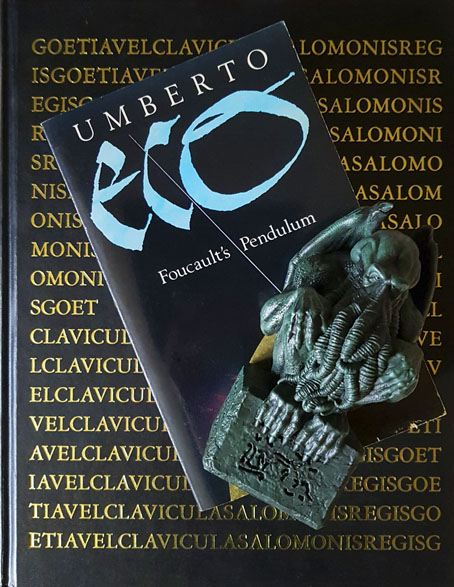 In which Umberto Eco nods fleetingly to the Cthulhu Mythos near the end of his second novel, Foucault's Pendulum. I'd show you more of the relevant passage (below) but it's rather spoilerish if you haven't read the book. This turned up during a re-reading, my first since the novel appeared in paperback in 1990. A reference like this doesn't stand out as much as it might elsewhere, not when the text that precedes it is stuffed to the gills with esoterica. Several hundred pages of occult history made me forget that Eco had hauled Lovecraft into his compendious fabulation along with everything else.

Ishmael Reed was responsible for returning me to Eco's novel as a result of an earlier re-read of Mumbo Jumbo, Reed's fictional account of voodoo, jazz, politics and many other things in the America of the 1920s. Eco was already in mind prior to this since I'd been working my way through his essays and lectures. (As I still am. He wrote a lot of the things.) Mumbo Jumbo's exploration of occult knowledge and occult conspiracy summoned vague memories of Foucault's Pendulum, which made me realise that I didn't remember very much at all about Eco's novel even though both books share an interest in the tangled history of the Knights Templar. To the top of the pile it went.
It's been interesting reading Eco's novel again. For a start, it was funnier than I remembered, although this may be a result of my being much more familiar with the publishing business than I was in 1990. The story concerns a trio of men who work for a small publishing house in Milan, a division of which is devoted to the works of self-financing authors or "SFAs". A vanity press in other words. A potential SFA turns up with a crank book rather similar to The Holy Blood and the Holy Grail, then abruptly disappears without collecting his manuscript. Curiosity, idleness and invention inspire the trio to improve upon the manuscript's occult conspiracy in a manner that knits together just about every aspect of Western mysticism there is, and even some of the Eastern ones: Rosicrucianism, alchemy, the Kabbalah, Atlantis, the Illuminati, ley lines, the Hollow Earth, Stonehenge, etc, etc; it's all in there. This is the thing they eventually call "the Plan", a kind of Unified Field Theory of esoteric knowledge, and a contrivance whose fabrication is assisted by further SFA manuscripts arriving as candidates for a new line of "Hermetic" books. Problems arise for the publishers when their elaborate intellectual game ends up being taken for a serious revelation by a group of fanatical mystics. Eco's novel demonstrates the pleasures of creative apophenia—the trio are continually challenging each other to fit a new piece of historical data into their scheme—while also acting as a warning that any halfway plausible Plan has the potential to be taken seriously by credulous cranks. As Lia, the novel's voice of reason, says:
People are starved for plans. If you offer them one, they fall on it like a pack of wolves. You invent, and they'll believe. It's wrong to add to the inventings that already exist.
Eco explored this phenomenon more seriously in a later novel, The Prague Cemetery, which invents an author for the notorious Protocols of the Elders of Zion, a Plan whose conspiratorial claims continue to fuel anti-Semitism the world over. The internet has only accelerated Plan-construction, and I imagine Eco would have been simultaneously fascinated and appalled by the feeble imaginings of that ex-football player with the lizard obsession, and the shambling, frothing Q-mob with their Very Important jpegs. (What is it the latter are always saying? "Trust the Plan"… And having mentioned Mr Icke, I just put his name into Google only to find that the latest extract from his Twitter feed has him talking about the Holy Grail. Welcome to the Crank Zone.)